77% would make again
Melting Snowman Cupcakes
These snowmen are melt-in-your-mouth delicious! Made with donut holes, and decorated with vanilla frosting and royal icing, they're the perfect addition to your holiday dessert spread.
Prep Time
40 minutes
40 min
Cook Time
20 minutes
20 min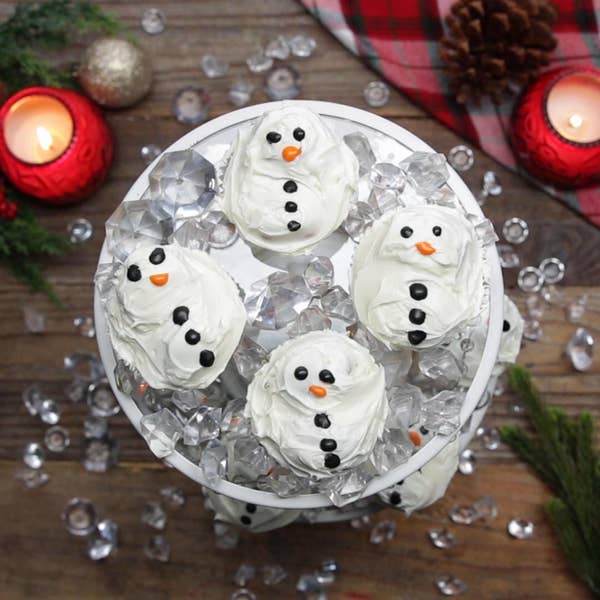 Prep Time
40 minutes
40 min
Cook Time
20 minutes
20 min
Ingredients
for 12 servings
Frosting
16 oz vanilla frosting
2 teaspoons white food coloring gel
2 tablespoons powdered sugar
Royal Icing
½ cup powdered sugar

(60 g)

¼ teaspoon kosher salt
¼ teaspoon vanilla extract
1 teaspoon pasteurized egg white powder
water, as needed
1 teaspoon orange food coloring gel
2 teaspoons black food coloring gel
Assembly
12 donut holes
12 white cupcakes
Preparation
Make the frosting: In a medium bowl, mix together the frosting and white food coloring gel until well combined. Add the powdered sugar and mix again until fully incorporated and smooth.
Make the royal icing: Sift the powdered sugar into a medium bowl and add the salt. To one side of the bowl, add the vanilla and egg white powder. Starting from that side, begin whisking the powdered sugar into the vanilla, gathering more as you whisk to prevent lumps from forming. Add water, 1 teaspoon at a time as needed, and continue whisking until all of the powdered sugar is incorporated. Divide the icing between 2 smaller bowls. Add the orange food coloring gel to one bowl and the black food coloring gel to the other and mix well. Transfer to 2 separate piping bags fitted with small round tips or zip-top bags with a corner snipped off.
Assemble the cupcakes: Cut the donut holes in half. Spread frosting over a cupcake. Place 2 donut hole halves on the cupcake. Cover with frosting. Repeat with the remaining cupcakes, donut holes, and frosting.
Using the black frosting, pipe eyes and buttons onto the snowmen. Use the orange frosting to pipe carrot noses.
Enjoy!