Mini Cast-Iron Raspberry Rhubarb Crisps
Take your taste buds on a rustic and charming journey with these mini desserts! A tangy and sweet combination of raspberries and rhubarb is topped with a crispy, buttery topping that will have you savoring every last bite.
May 05, 2023
Total Time
1 hr 15 min
1 hr 15 min
Prep Time
10 minutes
10 min
Cook Time
40 minutes
40 min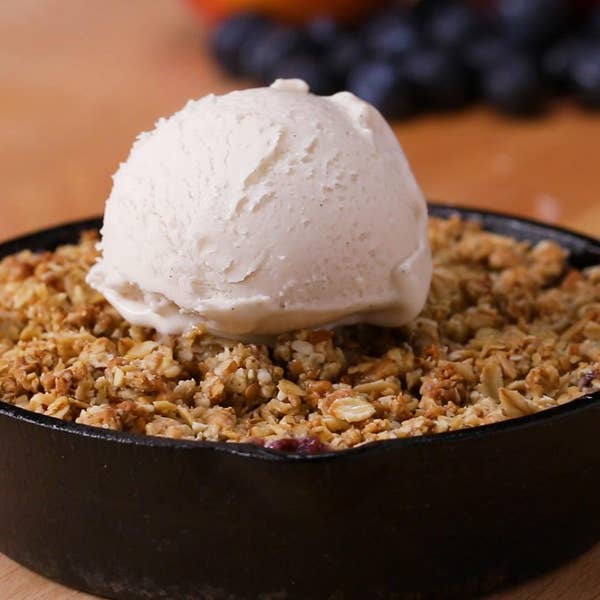 Total Time
1 hr 15 min
1 hr 15 min
Prep Time
10 minutes
10 min
Cook Time
40 minutes
40 min
Ingredients
for 4 servings
Raspberry Rhubarb Filling
2 cups rhubarb

(200 g)

, scrubbed and thinly sliced on the bias
1 cup raspberry

(125 g)

¼ cup organic sugar

(50 g)

1 ½ teaspoons arrowroot powder
fresh ginger, 1 inch (2.5 cm) peeled and grated
Crisp Topping
1 cup old fashioned rolled oat

(80 g)

, divided
¼ cup raw almonds

(35 g)

1 tablespoon flax seed
2 tablespoons pumpkin seeds
2 tablespoons almond flour
1 pinch kosher salt
1 teaspoon ground ginger
2 tablespoons maple syrup
3 tablespoons coconut oil, melted
Special Equipment
2 cast iron skillets, 4 1/2 inch (10 cm)
Preparation
Preheat the oven to 375˚F (190˚C).
Make the filling: In a medium bowl, mix together the rhubarb, raspberries, sugar, arrowroot powder, and ginger until the fruit is well coated. Set aside while you prepare the topping.
Make the topping: In a food processor, combine ½ cup oats, the almonds, flax seeds, pepitas, almond flour, salt, ginger, and maple syrup. Blend for 20–30 seconds, until the mixture is broken down but still has a coarse texture. With the food processor running, pour in the melted coconut oil and process until the dry ingredients are well coated.
Transfer the topping to a medium bowl and fold in the remaining ½ cup (45 g) oats.
Evenly divide the filling between 2 mini cast-iron skillets. Top each skillet with a heaping cup of the topping.
Bake for 22–25 minutes, until the filling is bubbling around the edges of the pan but not overflowing and the topping is golden brown and crisp.
Let cool for 10 minutes before serving.
Enjoy!