92% would make again
Pan-Fried Soup Dumplings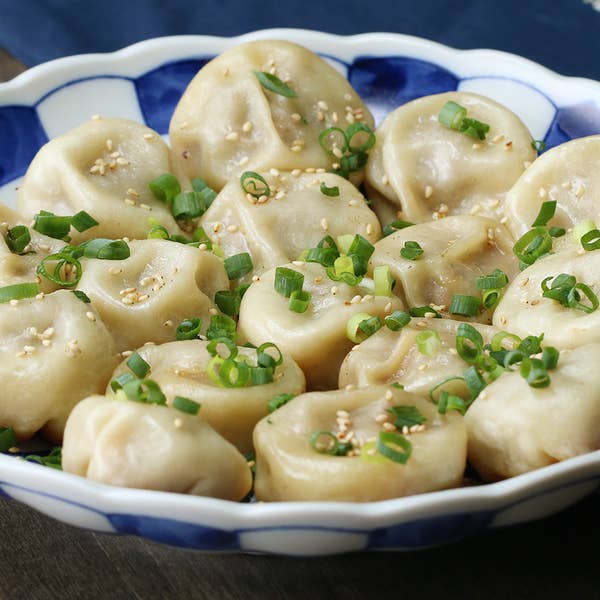 Ingredients
for 16 Servings
Soup
½ cup hot water

(120 mL)

¼ oz gelatin powder

(5 g)

1 tablespoon soy sauce
1 tablespoon chicken stock powder
Dumpling Wrappers
2 cups all-purpose flour

(250 g)

2 teaspoons baking powder
⅓ cup hot water

(80 mL)
Filling
⅓ lb ground pork

(150 g)

1 green onion, thinly sliced
2 shiitake mushrooms, thinly sliced
1 teaspoon fresh ginger, grated
1 teaspoon garlic, grated
1 teaspoon sugar
1 teaspoon sake
1 teaspoon sesame oil
1 tablespoon soy sauce
2 tablespoons oil
¼ cup water

(50 mL)

1 tablespoon sesame oil
For Serving
white sesame seed
green onion, thinly sliced
Nutrition Info
Estimated values based on one serving size.
Preparation
In a medium bowl, combine the hot water, gelatin, soy sauce, and chicken stock and mix well. Transfer the soup to a shallow heatproof tray and chill in the refrigerator for 1 hour, or until set.
When set, fluff the soup and break up with a fork.
Add the flour and baking powder to a medium bowl. Pour the hot water over the flour mixture, and mix the dough gently to combine.
Using your hands, knead the dough until it becomes smooth and elastic. Cover the bowl with plastic wrap and rest for at least 30 minutes at room temperature.
For the filling, combine the ground pork, green onion, shiitake mushroom, ginger, garlic, sugar, sake, sesame oil, and soy sauce until well mixed.
Roll the dough into a log. Divide it into 16 pieces.
Take one piece and shape into a ball, then roll into flat round using a rolling pin. Put a spoonful of filling and soup gelatin into the center of the dough. Pinch the top a couple times to close the dumpling.
Repeat with the remaining dough and fillings.
Heat the oil in a medium pan over medium heat. Set the dumplings in a pan, seam side down, pour in the water, and cover.
Steam the dumplings for 12 minutes.
Add the sesame oil in the pan, increase the heat to high, and cook until the bottoms of the dumplings are crisp.
Serve with sesame seeds and sliced green onion.
Enjoy!