Pancake Batter Fried Chicken
Move over, chicken and waffles--there's a new mashup in town. Coat the chicken in a spicy pancake batter and fry them to crispy golden brown. It's a crowd-pleasing appetizer that comes together in 30 minutes!
February 25, 2020
Total Time
30 minutes
30 min
Cook Time
20 minutes
20 min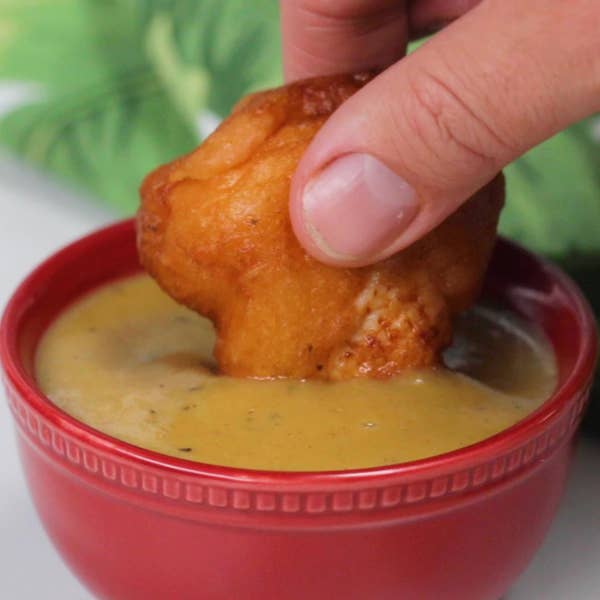 Total Time
30 minutes
30 min
Cook Time
20 minutes
20 min
Ingredients
for 4 servings
Fried Chicken
1 ½ lb chicken breast

(670 g)

, cut into 2-inch (5 cm) pieces
2 teaspoons kosher salt, divided
1 teaspoon freshly ground black pepper, divided
2 cups dry pancake mix

(250 g)

⅛ teaspoon cayenne
1 teaspoon paprika
1 teaspoon garlic powder
1 cup buttermilk

(240 mL)

½ cup water

(120 mL)

4 cups vegetable oil

(960 mL)

, for frying
Mustard Dipping Sauce
1 cup dijon mustard

(250 g)

¾ cup maple syrup

(250 g)

2 tablespoons vegetable oil
½ teaspoon kosher salt
½ teaspoon black pepper
Preparation
In a medium bowl, season the chicken with 1 teaspoon of salt and ½ teaspoon of black pepper. Set aside while you make the batter.
In a large bowl, whisk together the pancake mix, remaining teaspoon of salt, remaining ½ teaspoon pepper, the cayenne, paprika, and garlic powder. Add the buttermilk and ⅓ of the water and whisk to incorporate. Add the remaining water, ⅓ at a time, and whisk until no lumps remain.
Add the chicken to the batter and toss to coat completely.
Heat the vegetable oil in a large, heavy-bottomed pot over medium-high heat until it reaches 350°F (180°C). Set a wire rack inside a baking sheet and place nearby.
Working 4–5 pieces at a time, fry the battered chicken in the hot oil for 2–3 minutes, or until golden brown and the internal temperature reaches 165°F (75°C). Remove from the oil and let drain on the wire rack while you repeat with the remaining chicken.
Make the dipping sauce: In a small bowl, whisk together the Dijon, pancake syrup, vegetable oil, salt, and pepper until well combined.
Serve the chicken bites warm with the sauce alongside for dipping.
Enjoy!
Don't just wing it -- plan it! Use our meal planner tool in the Tasty app. Download here.