Ultimate Crispy "Chicken" Sandwich
The crispy chicken sandwich craze gets a vegan makeover! The journey may be a long one, but the destination is well worth it. After you fry your "chicken" breasts to golden brown, serve up your sandwich on a toasted bun with colorful slaw and vegan aioli. Consider any carnivore fooled!
March 25, 2020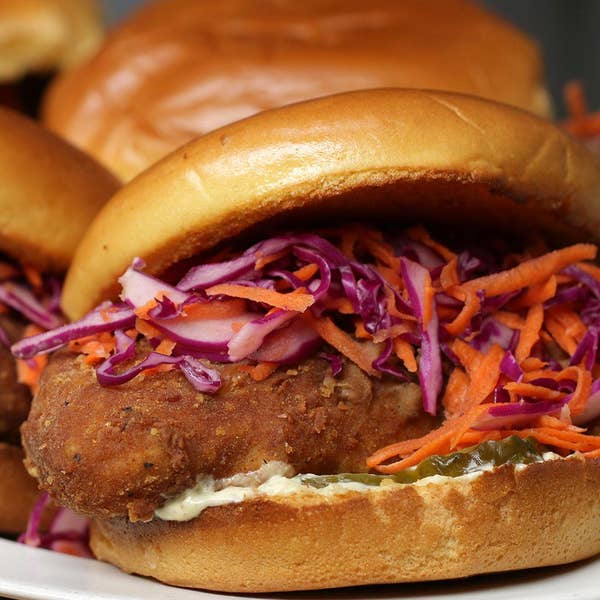 Ingredients
for 8 servings
14 oz cannellini bean
14 oz firm tofu, pressed, cut into large cubes
2 tablespoons olive
1 tablespoon vegan worcestershire sauce
1 vegetable bouillon packet, dissolved in 1 tablespoon warm water
1 tablespoon onion powder, plus 1 teaspoon, divided
2 tablespoons garlic powder, plus 1 teaspoon, divided
2 tablespoons kosher salt, plus 1½ teaspoons, divided, plus more to taste
1 ¾ cups vital wheat gluten

(200 g)

, plus 2 tablespoons
2 cups all-purpose flour

(250 g)

, plus more for dusting
4 cups oat milk

(960 mL)

¾ cup dill pickle juice

(180 mL)

2 dashes hot sauce
8 cups canola oil

(2 L)

, for frying
¼ cup corn starch

(30 g)

1 tablespoon baking soda
1 tablespoon paprika
2 teaspoons cayenne
1 teaspoon ground black pepper
Quick Slaw
2 cups purple cabbage

(200 g)

, thinly sliced
1 large carrot, peeled and shredded
2 teaspoons apple cider vinegar
½ teaspoon sugar
1 teaspoon kosher salt
Vegan Aioli
⅓ cup vegan mayonnaise

(80 g)

1 teaspoon garlic paste
1 tablespoon brown mustard
1 dash hot sauce
1 pinch kosher salt
Assembly
8 vegan brioche buns, toasted
dill pickle, sliced
hot sauce of choice
Preparation
In a food processor, combine the cannellini beans and their liquid, the tofu, olive oil, worcestershire sauce, dissolved bouillon, 1 teaspoon onion powder, 1 teaspoon garlic powder, and 1½ teaspoons salt. Blend on high speed until smooth and homogenous.
Add the vital wheat gluten in batches, blending between additions and scraping down the sides of the bowl to fully incorporate. The mixture should start coming together into a dough.
Transfer the dough to a lightly floured surface and knead for about 5 minutes, until elastic and smooth. Cover with a towel and let rest for 10 minutes.
Divide the dough into 8 equal portions. Lightly sprinkle each piece with flour and roll out to flatten. Using your hands, shape each portion to resemble a chicken breast.
Wrap each piece of "chicken" in parchment paper and transfer to a steamer pot. Steam for 80 minutes, flipping halfway through. The steaming process is important to ensure the vital wheat gluten is fully cooked.
Towards the end of the steaming, prepare the brine: In a large, shallow dish, whisk together the oat milk, pickle juice, hot sauce, and 1 tablespoon salt.
Remove the "chicken" from the steamer and discard the parchment paper. Transfer the warm "chicken" to the brine to marinate for 1–2 hours.
Meanwhile, make the quick slaw: In a medium bowl, combine the cabbage, carrot, apple cider vinegar, sugar, and salt. Toss to combine well and set aside.
Make the vegan aioli: In a small bowl, combine the vegan mayonnaise, garlic, mustard, hot sauce, and salt. Mix well to combine.
Fill a large pot with the canola oil. Heat over medium-high heat until the oil reaches 350°F (180°C).
While the oil heats, bread the "chicken": In a wide, shallow dish, mix together the flour, cornstarch, baking soda, remaining 2 tablespoons garlic powder, remaining tablespoon onion powder, the paprika, cayenne, remaining tablespoon salt, and pepper. Mix together with a fork.
Remove the "chicken"from the brine. Lightly coat in the flour mixture, then set aside.
Add about ¼ cup (60 ml) of the brining liquid to the flour and mix with a fork to create some clumps, which will fry up to be crispy bits. Dip each floured "chicken" breast in the brine, making sure there are no dry spots. Coat each piece again in the clumpy flour mixture.
Working 2 at a time, fry the "chicken" for 3–4 minutes, until deep golden brown and crispy. Transfer the "chicken" to a wire rack and season lightly with salt. Bring the oil temperature back to 350°F (180°C) between batches.
To assemble, spread 1 tablespoon of aioli across the bottom of each toasted brioche bun. Top with pickles, a piece chicken, a dash of hot sauce, and about ½ cup (50g) slaw. Top with the top bun.
Enjoy!
Meal planning made easy with the Tasty app. Download now to see exclusive curated meal plans.