Doritos Chicken Bites With 1UP Sauce
These crispy and crunchy chicken bites are a fun and flavorful twist on traditional chicken nuggets. Coated in crushed Doritos and served with a tangy and creamy 1UP sauce, these bites are sure to be a crowd-pleaser. Perfect for a game day snack or a fun weeknight dinner.
August 14, 2023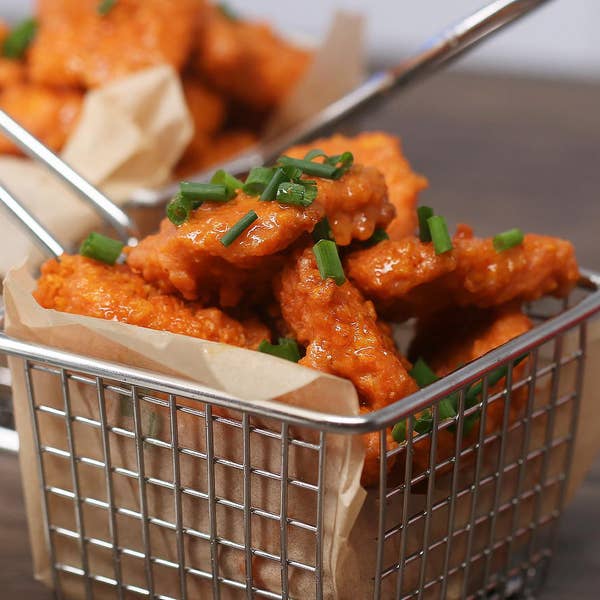 Ingredients
for 4 servings
1 ½ lb chicken breast

(650 g)

6 cups Doritos Nacho Cheese-Flavored Tortilla Chips

(235 g)

1 cup all purpose flour

(125 g)

2 eggs, whisked
Sauce:
1 cup mayonnaise

(245 g)

½ cup sour cream

(120 g)

1 teaspoon garlic powder
1 teaspoon onion powder
½ teaspoon black pepper
¼ teaspoon salt
¼ cup blue cheese

(30 g)

½ cup hot sauce

(120 mL)

½ cup butter

(115 g)

, melted
¼ fresh chive, finely sliced
Preparation
Preheat your oven to 400 degrees. Place the doritos in a food processor (or use a large resealable bag and rolling pin to finely crush the chips) and blitz until the chips become a fine crumb. Transfer the pulsed chips to a bowl. Add the flour and eggs to their own respective bowls, then begin breading the chicken. Dip each piece of chicken in the flour, then the egg, then the chip crumbs and toss around to coat evenly. Repeat for each piece of chicken, then transfer to a parchment lined baking tray. Bake for 14 - 16 minutes, or until the internal temperature of the chicken reaches 165 degrees.
While the chicken bakes, start to make the 1UP sauce. In a food processor combine the mayo, sour cream, garlic powder, onion powder, pepper, salt, and blue cheese. Pulse well to combine evenly, then transfer to your serving bowl and set aside.
In a separate bowl, whisk together the hot sauce and melted butter. When the chicken bites are cooked, remove from the oven and toss in the hot sauce and butter. Top with freshly sliced chives and serve alongside the 1UP sauce.
Enjoy!
Your favorite recipes are just a click away. Download the Tasty app to save and organize your favorites.