Beer-Battered Squash With Ketchup Chip Salt And Spiced Maple Syrup
It's the ketchup chip salt that does it for me. This content is intended solely for users of legal drinking age. Drink responsibly.
March 01, 2022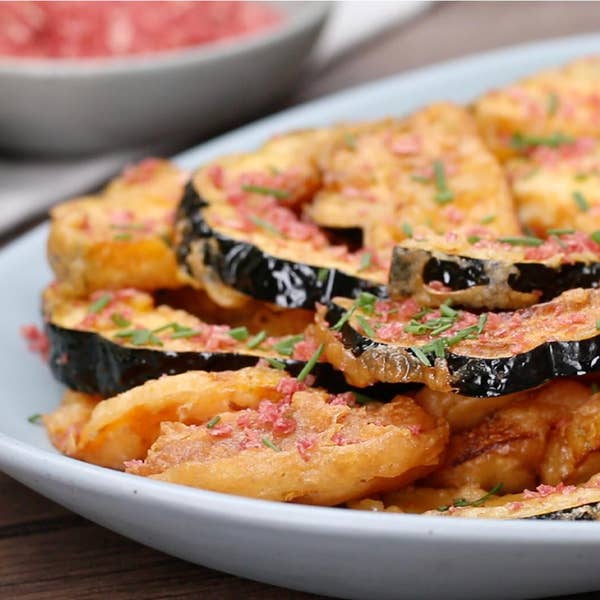 Ingredients
for 7 servings
1 acorn squash
1 butternut squash
2 cups ketchup chips
1 teaspoon salt
¼ cup maple syrup
¼ teaspoon chili flakes
2 tablespoons fresh chives
vegetable oil
Beer Batter
1 cup cake flour
1 teaspoon salt
1 teaspoon baking powder
1 cup beer, chilled
1 egg
This recipe isn't available to shop.
Unfortunately, not all our recipes can be shopped through Tasty.
Preparation
Slice the acorn squash in half horizontally, then scoop out all of the seeds. Slice into ⅛-inch pieces and set aside. For the butternut squash, peel away the outer skin well and slice into similar sized slices.
For the ketchup chip salt, transfer the chips to a resealable plastic bag then crush them into fine pieces (use your hands, a rolling pin, or a kitchen mallet). Place the chips in a bowl, then mix in the salt. In a separate bowl, mix the maple syrup and chili flakes. Set both the chip salt and spiced maple aside.
In a large pot or Dutch oven bring your oil up to 350⁰F. While the oil heats, make your beer batter. In a large mixing bowl, add the cake flour, salt, and baking powder. Then pour in the cold beer, followed by the egg. Whisk well to incorporate.
When the oil has reached its temperature, begin coating the slices of squash in the batter, making sure to shake off any excess, before carefully placing in the oil. Deep-fry the squash for 2 to 3 minutes, being mindful not to overcrowd the pot (this will drop the temperature), then transfer to a paper towel lined sheet tray to absorb any extra oil. Season immediately with a liberal sprinkling of the ketchup chip salt. Continue frying in batches until all of the squash is cooked.
To serve, place the fried squash in a paper-towel lined serving basket. Sprinkle on some extra chip salt if desired, and garnish with finely sliced chives. Serve with the spiced maple syrup for dipping and enjoy!