Blossoming Onion Lotus
This eye-catching dish is sure to impress your guests! A whole onion is cut and battered to resemble a beautiful lotus flower, and then deep-fried with potato slices to crispy perfection. Serve it up with your favorite dipping sauce for a delicious appetizer or side dish.
August 14, 2023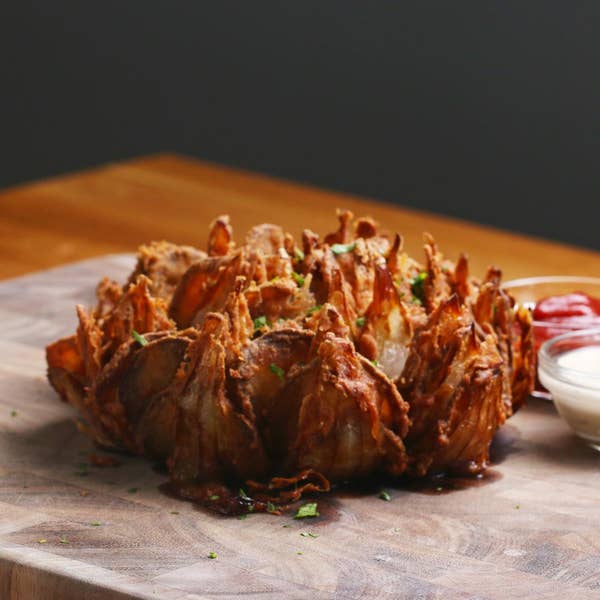 Ingredients
for 6 servings
5 qt vegetable oil

(4 L)

2 cups all-purpose flour

(250 g)

1 tablespoon garlic powder
1 tablespoon paprika
2 tablespoons pepper
1 tablespoon onion powder
1 tablespoon cayenne
3 tablespoons salt, divided
1 cup whole milk

(240 mL)

2 medium russet potatoes
1 large white onion
fresh parsley, for garnish, finely chopped
ketchup, for serving
ranch dressing, for serving
Preparation
Heat the oil in a 6-quart (5 ½ L) Dutch oven over high heat until it reaches 375°F (190°C).
In a medium bowl, combine flour, garlic powder, paprika, pepper, onion powder, cayenne, and 1 tablespoon of salt and whisk well.
In a liquid measuring cup with a spout, whisk together the milk and half of the flour-spice mix.
Slice the potatoes on a mandolin or with a sharp knife into ¹⁄₁₆-inch (1 mm) thick slices.
Transfer the potato slices to a large bowl and cover with water. Move the potato slices around to remove excess starch, then drain the water.
Sprinkle the potato slices with the remaining 2 tablespoons of salt and toss to coat.
On a cutting board, slice off the very top and bottom of the onion.
Cut 8 equal slits into the onion, taking care to leave the onion attached at the root end.
Place a potato slice between each onion layer.
Transfer the onion potato lotus onto a spider or fine-mesh strainer.
Place the spider over a medium bowl and drizzle the spice batter over the lotus.
Use your fingers to prod between the layers to ensure the batter soaks into the nooks and crannies of the onion.
Pour the remaining spice mixture over the onion lotus.
Use your fingers to prod between the layers to ensure even coverage.
Fry the onion lotus for 10 minutes, or until golden brown.
Transfer the onion lotus onto a wire rack set over a baking sheet.
Garnish with parsley.
Serve warm, with ketchup and ranch dressing for dipping.
Enjoy!
Love this recipe? Download the Tasty app to save it and discover others like it.