Thanksgiving Leftovers Turnip Cake
Born in Taiwan but raised in America, growing up my family celebrated Thanksgiving with both the traditional holiday staples and our own cultural dishes (Mom's sticky fried rice, Dad's beef noodle soup, Aunty's peanut soup). We also went out to dim sum a few times instead of cooking, hehe. This turnip cake remix that uses up Thanksgiving leftover is the perfect nod to both parts of my upbringing!
October 30, 2023
Total Time
1 hr 31 min
1 hr 31 min
Prep Time
1 hr 25 min
1 hr 25 min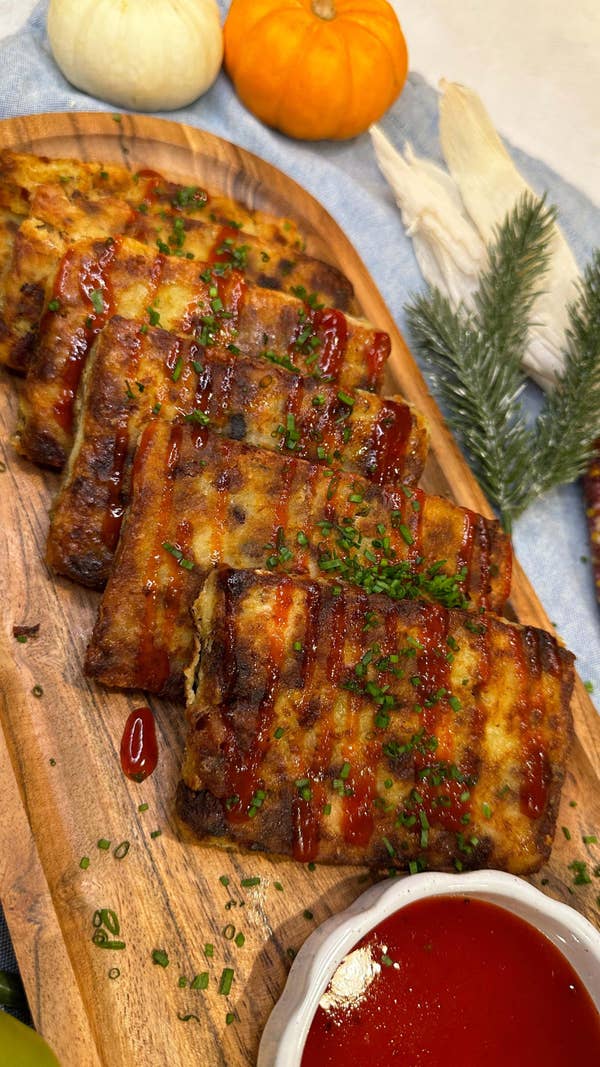 Total Time
1 hr 31 min
1 hr 31 min
Prep Time
1 hr 25 min
1 hr 25 min
Ingredients
for 4 servings
1 ½ cups mashed potatoes
½ cup all-purpose flour, plus 3 tablespoons, divided
1 ½ cups stuffing
1 cup turkey skin
1 cup chopped or shredded turkey
½ cup gravy
salt, to taste
black pepper, to taste
avocado oil or neutral oil of choice, for frying
sliced chives or scallion, for garnish
Cranberry Sweet Chili Sauce
½ cup cranberry sauce
1 tablespoon honey
1 tablespoon ketchup
1 ½ teaspoons soy sauce
¼ tablespoon gochujang, plus more to taste
¼ cup water
Nutrition Info
Calories

610

Fat

13g

Carbs

89g

Fiber

4g

Sugar

13g

Protein

28g
Estimated values based on one serving size.
Preparation
Preheat the air fryer or oven to 375°F (190°C).
On a clean surface, sprinkle 3 tablespoons of flour over the mashed potatoes (you may need more or less depending on the moisture level of the potatoes) and gently knead until just combined.
Break up the stuffing into small pieces on a small baking sheet, then add the turkey skin and toss to combine. Air fry or bake for 10-12 minutes, until crunchy, like croutons. Let cool, then roughly chop into smaller pieces.
In a small skillet, combine the turkey and gravy. Cook over medium-high heat, stirring frequently, until the gravy thickens to coat the turkey without a lot of excess in the pan.
In a large bowl, combine the mashed potatoes, gravy-coated turkey, and crispy stuffing and turkey skin. Mix together until just combined.
Line a quarter-sheet pan with plastic wrap. Transfer the mashed potato mixture to the pan and press down into an even layer, about ½ inch thick. Freeze for at least 1 hour, or up to overnight, to set.
Make the cranberry sweet chili sauce: In a medium bowl, whisk together the cranberry sauce, honey, ketchup, soy sauce, gochujang, and water. Pour into a small skillet and cook over medium-high heat for 2-3 minutes, until the sauce lightly coats the back of a spoon. The sauce will continue to thicken as it cools.
Remove the frozen "turnip cake" from the freezer, unwrap, and cut into 3 x 4-inch rectangles, or your desired shape.
In a small baking sheet or shallow dish, season the remaining ½ cup flour with salt and pepper. Lightly coat the "turnip cake" rectangles on all sides.
Heat a generous drizzle of oil in a large skillet over medium-high heat. Working in batches, pan-fry the cakes until dark golden brown and crispy.
Garnish the cakes with chives and serve with the cranberry sweet chili sauce for dipping.
Enjoy!
Busy? Plan your meals for the week using our exclusive meal planner tool in the Tasty app. Download now and get organized.