Pom Pom Potatoes
A fun twist on crunchy hasselback potatoes, these fluffy pom pom potatoes are much easier to make than they look at first glance.
October 24, 2023
Total Time
50 minutes
50 min
Prep Time
15 minutes
15 min
Cook Time
35 minutes
35 min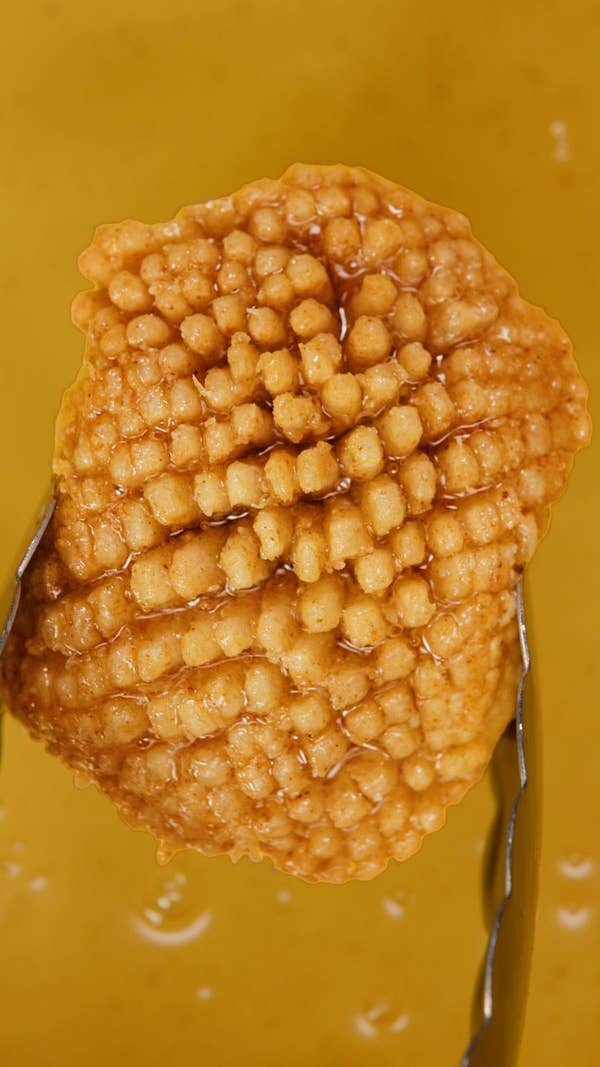 Total Time
50 minutes
50 min
Prep Time
15 minutes
15 min
Cook Time
35 minutes
35 min
Ingredients
for 2 servings
6 medium Yukon gold potatoes, peeled
4 cups water
2 tablespoons kosher salt
4 cups canola oil
1 cup all-purpose flour
1 tablespoon smoked paprika
1 tablespoon ground cumin
1 teaspoon chili powder
Preparation
Using a chef's knife, trim the ends of the potatoes, then slice off the bottoms so the potatoes lay flat. Place a chopstick on either side of a potato and slice crosswise, spacing the cuts roughly ¼ inch apart, stopping at the chopsticks so you don't cut all the way through the bottom of the potato. Rotate the potato 90°, keeping the flat bottom against the cutting board, then cut crosswise again at ¼-inch intervals to make a criss-cross pattern. Repeat with the remaining potatoes.
Add the water and salt to a large bowl and stir to dissolve the salt, then add the potatoes. Soak for 30 minutes. Drain the water and pat the potatoes dry with a paper towel.
Add the canola oil to a large pot fitted with a deep-fry thermometer. Heat over medium heat until the temperature reaches 375°F (190°C). Reduce the heat to low to maintain the temperature.
In a medium bowl, whisk together the flour, smoked paprika, cumin, and chili powder.
Dredge the potatoes in the flour mixture, using your hands to get in the crevices between the cuts. Shake off the excess.
Fry the potatoes in the hot oil for 7 minutes, until golden brown and fully cooked through. Transfer to a paper towel-lined plate to drain, sprinkling with salt while they are still warm.
Serve hot.
Enjoy!
All your favorite recipes, stored in one place. Download the Tasty app and never lose a recipe again.