96% would make again
Peppermint Brownie Cookies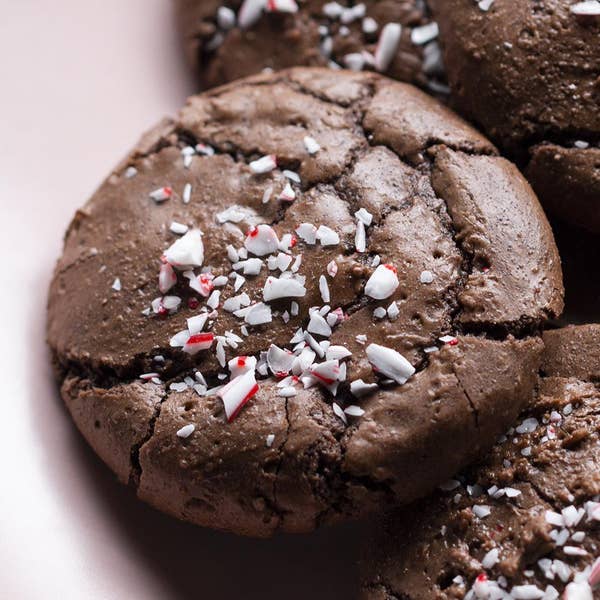 Ingredients
for 12 cookies
7 oz semi-sweet chocolate chips

(175 g)

8 tablespoons unsalted butter, cubed, plus 1 tablespoon
1 ½ teaspoons peppermint extract
1 cup all-purpose flour

(125 g)

1 teaspoon baking powder
¼ teaspoon kosher salt
2 tablespoons dutch processed cocoa powder
1 tablespoon black cocoa powder
2 large eggs, room temperature
¾ cup sugar

(150 g)

½ cup dark brown sugar

(110 g)

, packed
¼ cup candy cane

(30 g)

, crushed
2 cups water

(480 mL)

, for melting chocolate
Nutrition Info
Estimated values based on one serving size.
Preparation
Preheat the oven to 350°F (180˚C). Line 2 large baking sheets with parchment paper or nonstick baking mats.
Bring a small pot of water to a simmer. Add the chocolate chips, butter, and peppermint extract to a medium heatproof bowl and place over the simmering water. Melt, stirring often until smooth, about 10 minutes. Remove the bowl from the heat and set aside.
In a large bowl, sift together the flour, baking powder, salt, Dutch-process cocoa powder, and black cocoa powder. Whisk to combine.
Add the eggs to the bowl of a stand mixer fitted with the whisk attachment or a large bowl with an electric hand mixer and whip on high speed until foamy, about 1 minute. Continue mixing while slowly adding the granulated and brown sugar until the mixture is pale and falls into ribbons, about 9 minutes.
Add the melted chocolate mixture to the whipped eggs and mix on low speed until just combined.
Add the dry ingredients and mix again until smooth.
Using an ice cream scoop, immediately scoop the cookies onto the prepared baking sheets and smooth the tops with your finger.
Bake for 8 minutes, then remove the cookies from the oven and sprinkle the tops with crushed candy canes. Return the cookies to the oven and bake for another 4 minutes, until the tops are cracked and shiny. Remove from the oven and immediately smack the baking sheets against the countertop, then let the cookies cool completely on the pans.
Note: If black cocoa powder is not available in your grocery store, cookies can be made using 3 tablespoons of Dutch-process cocoa powder; simply swapping the black cocoa for the Dutch-process.
Enjoy!