Fresh Pumpkin Pie
Experience the true essence of fall with this delightful Pumpkin Pie made from fresh pumpkin. This homemade classic will have your taste buds dancing with its perfect blend of spices and creamy texture.
May 04, 2023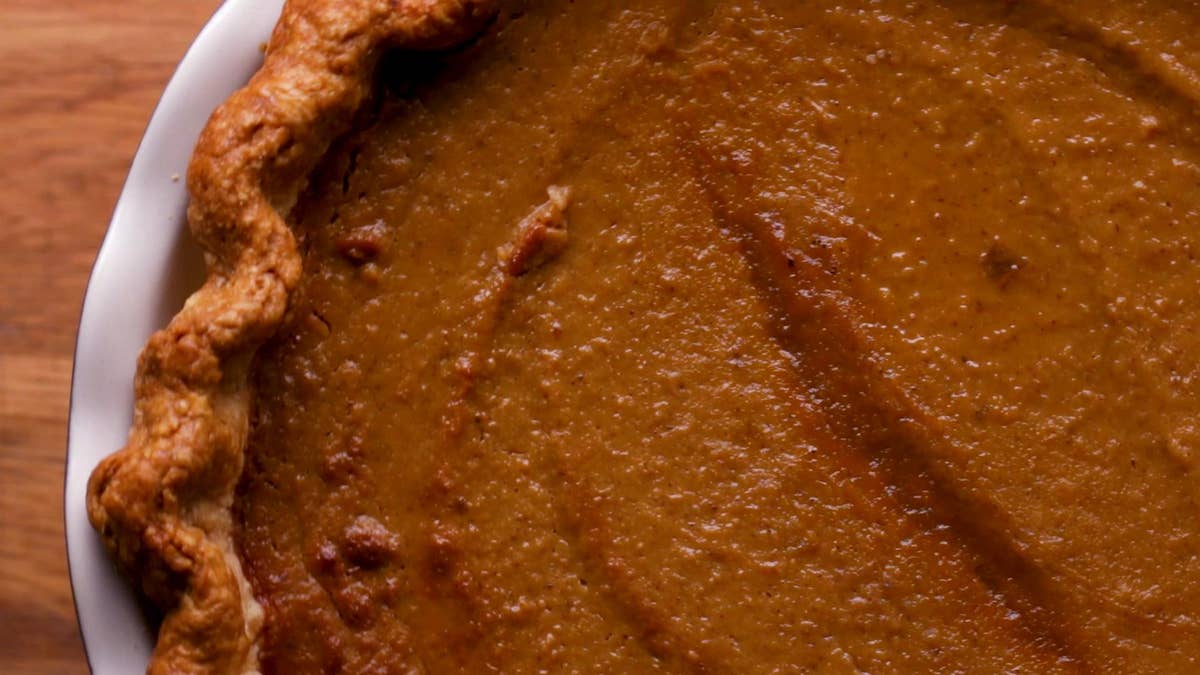 Ingredients
for 8 servings
1 premade pie crust, rolled out to ⅛-inch (3 mm) thick
Filling
2 ½ lb sugar pumpkin

(1.1 kg)

1 teaspoon cinnamon
⅛ teaspoon allspice
⅛ teaspoon cloves
¼ teaspoon ginger
¼ teaspoon nutmeg
½ teaspoon kosher salt
1 teaspoon vanilla
½ cup granulated sugar

(100 g)

½ cup brown sugar

(110 g)

3 large eggs
1 large egg yolk
1 ¼ cups half-and-half

(300 mL)

egg wash
Nutrition Info
Calories

456

Fat

27g

Carbs

46g

Fiber

5g

Sugar

21g

Protein

9g
Estimated values based on one serving size.
Preparation
Preheat the oven to 400˚F (200˚C). Line a baking sheet with parchment paper.
Gently lay the rolled-out pie crust in a pie dish. Trim the excess dough around the sides.
Tuck the dough under the edge, and crimp the edges using the index finger knuckle on one hand and the thumb and index finger on your other hand. Chill in the refrigerator for 14-20 minutes.
After chilling the crust, crumple a piece of parchment paper, then spread it out in the center of the crust. Add dried chickpeas or baking beans to the center and spread toward the sides of the crust--this will add weight to keep the crust from puffing up and hold up the walls.
Bake the crust for 15-20 minutes, until slightly golden and there are no raw doughy spots.
Cut the sugar pumpkin into 8 wedges. Use a paring knife or spoon remove all of the seeds and pulp.
Place the pumpkin on the prepared baking sheet and dry roast for 15-20 minutes, until tender.
Let the pumpkin cool slightly, then peel off the skin using your hands or a spoon.
Increase the oven temperature to 425˚F (220˚C).
Add 16 ounces (455 g) of the pumpkin to a food processor, along with the cinnamon, allspice, cloves, ginger, nutmeg, salt, vanilla, granulated sugar, brown sugar, eggs, egg yolk, and half-and-half. Puree until very smooth, 6-8 minutes.
Pour the filling into the prebaked crust. Brush the edges of the crust with egg wash.
Bake the pie for 15 minutes, then reduce the oven temperature to 350˚F (180˚C) and continue to bake for 30-35 minutes more, until the edges are set but the center still jiggles slightly when shaken.
Let cool at room temp for at least 2 hours, or in the fridge overnight
Slice and serve.
Enjoy!
Don't let a good recipe slip away. Download the Tasty app and save your favorites for easy access.