Queso Blanco Mac 'N' Cheese With Corn And Chicharrones As Made By Victor Ramos
Mac and cheese gets a makeover in this corn-infused recipe! Corn, shallot, and garlic-infused milk and half-and-half are mixed with a blend of four cheeses to make a creamy queso blanco sauce. The sauce is poured over pasta shells and buttery corn kernels, then baked with a chicharrones topping for crunch.
October 13, 2021
Total Time
1 hr 52 min
1 hr 52 min
Prep Time
12 minutes
12 min
Cook Time
1 hr 40 min
1 hr 40 min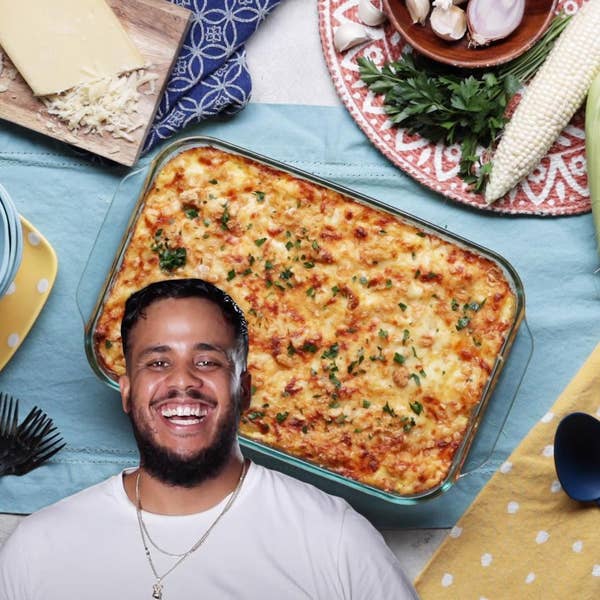 Total Time
1 hr 52 min
1 hr 52 min
Prep Time
12 minutes
12 min
Cook Time
1 hr 40 min
1 hr 40 min
Ingredients
for 8 servings
1 stick unsalted butter, divided, plus more for greasing
kosher salt, to taste
1 lb dried pasta shells

(425 g)

7 ears corn, shucked
2 cups whole milk

(480 mL)

2 cups half & half

(480 mL)

2 heads garlic, halved crosswise
2 shallots, peeled
5 oz shredded mozzarella cheese

(140 g)

5 oz shredded gruyère cheese

(140 g)

5 oz shredded white cheddar

(140 g)

5 oz shredded monterey jack cheese

(140 g)

2 tablespoons all purpose flour
½ tablespoon ground white pepper
2 oz chicharrónes

(30 g)

fresh parsley, for garnish, finely chopped
Nutrition Info
Calories

804

Fat

39g

Carbs

79g

Fiber

5g

Sugar

13g

Protein

37g
Estimated values based on one serving size.
Preparation
Preheat the oven to 350°F (180°C). Grease a 9x 13 x 2-inch baking dish with butter.
Bring a large pot of salted water to a boil. Add the shells and cook until nearly al dente, then drain.
Stand an ear of corn upright on a cutting board and run a knife down the side to cut the kernels off. Repeat with the remaining ears. Set the kernels aside.
Add the corn cobs to a 4-quart pot with the milk, half-and-half, garlic, and shallots. Bring to a simmer over medium-low heat and cook for 20 minutes to infuse. Remove the pot from the heat, strain through a fine-mesh sieve into a large bowl, and discard the solids. Let cool for 10 minutes. Rinse out the pot.
Melt the 6 tablespoons of butter in the same pot over medium heat. Add the corn kernels and sauté until beginning to caramelize, 3–4 minutes. Remove ½ cup of corn and set aside. Add the corn-infused milk mixture and a pinch of salt and cook for another minute, until starting to bubble and thicken slightly.
Transfer the corn mixture to a blender and blend until smooth. Strain through a fine-mesh sieve into a clean large bowl, using a wooden spoon to extract as much liquid as possible from the corn pulp. Rinse out the pot.
In a medium bowl, combine the mozzarella, Gruyère, white cheddar, and Monterey Jack cheeses and mix well.
Add the remaining 2 tablespoons butter and the flour to the pot. Cook over medium-low heat, whisking constantly, until the roux is light golden, 1–2 minutes. Add the corn cream and cook, whisking frequently, until thickened slightly, 3–5 minutes.. Gradually add 1¾ cups of the cheese mixture and whisk until smooth. Season with the white pepper and remove the pot from the heat.
Add the chicharrones to a food processor or blender. Process until broken down into coarse crumbs.
Add the cooked pasta shells to the prepared baking dish and pour the cheese sauce on top. Add the reserved corn kernels and half of the remaining cheese mix, then stir well to combine. Top with the remaining cheese mix and the chicharron crumbs.
Bake the mac 'n' cheese for 25 minutes. Turn the oven to broil and cook for another 5 minutes, until the top of the mac 'n' cheese is crispy. Let rest for at least 5 minutes.
Garnish the mac 'n' cheese with the parsley, then serve.
Enjoy!
Love this recipe? Download the Tasty app to save it and discover others like it.