5-Cheese Mac And Cheese
This baked mac and cheese, packed with seasoned flavor, is a Maryland staple.
November 15, 2023
Total Time
40 minutes
40 min
Prep Time
10 minutes
10 min
Cook Time
30 minutes
30 min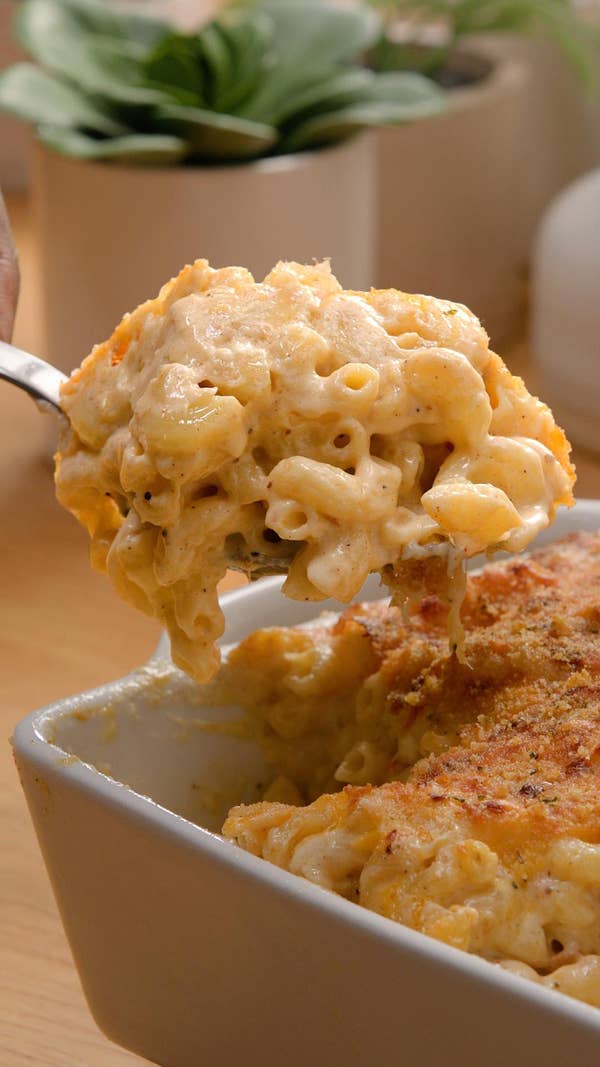 Total Time
40 minutes
40 min
Prep Time
10 minutes
10 min
Cook Time
30 minutes
30 min
Ingredients
for 8 servings
nonstick cooking spray, for greasing
kosher salt, for boiling
7 oz freshly grated sharp yellow cheddar cheese
3 oz freshly grated sharp white cheddar cheese
3 oz freshly grated mozzarella cheese
2 oz freshly grated Gouda cheese
2 oz freshly grated Colby Jack cheese
1 lb dried elbow noodles
3 ½ tablespoons unsalted butter, divided
1 ¾ cups half-and-half
¼ cup heavy cream
4 oz cream cheese
1 ½ tablespoons minced garlic
2 tablespoons all-purpose flour
1 teaspoon garlic powder
1 teaspoon onion powder
½ teaspoon black pepper
½ teaspoon paprika
1 teaspoon white pepper
½ teaspoon ground mustard seeds
old bay seasoning, to taste
Himalayan pink salt, to taste
½ cup seasoned bread crumbs
Preparation
Preheat the oven to 350°F (180°C). Grease a large casserole dish with nonstick spray.
Bring a large pot of salted water to a rapid boil.
In a large bowl, toss together the yellow and white cheddar, mozzarella, Gouda, and Colby Jack cheeses.
Add the elbow noodles to the boiling water and cook according to the package instructions until al dente. Reserve ½ cup of the cooking water, then drain the noodles. Transfer the noodles to a large bowl and toss with 1½ tablespoons of butter to coat.
Add the half-and-half, heavy cream, and cream cheese to a medium saucepan. Cook over low heat until evenly combined and warmed through.
Melt the remaining 2 tablespoons of butter in a separate medium saucepan over medium heat. Add the garlic and cook until fragrant, about 1 minute. Add flour and stir until the roux is light golden brown in color.
Slowly pour the warm half-and-half mixture into the roux, stirring constantly. Simmer over medium heat until thickened, 3-5 minutes.
Reduce the heat to very lowest setting and slowly stir in the cheese blend until melted, reserving about a third for topping the mac and cheese. Remove the pot from the heat and stir in the garlic powder, onion powder, black pepper, paprika, white pepper, ground mustard seeds, Old Bay, and Himalayan pink salt.
Pour the cheese sauce over the noodles and carefully fold to coat evenly. Transfer half of the mac and cheese to the prepared baking dish and sprinkle with half of the reserved cheese. Top with the remaining noodles and cheese.
Bake until the cheese on top has melted, 10-15 minutes. Remove from the oven and sprinkle the bread crumbs on top, then bake for another 5 minutes, until the bread crumbs are golden brown.
Enjoy!
Your favorite recipes are just a click away. Download the Tasty app to save and organize your favorites.