Steak And Cheddar Grilled Cheese Sandwiches
This is the ultimate grilled cheese! Slices of perfectly cooked flank steak are layered between cheddar cheese and sandwiched between two slices of sourdough bread, then pan-fried in butter for a flavorful crunch! Serve with sweet and salty pickled carrots for a briny crunch.
August 14, 2023
Prep Time
15 minutes
15 min
Cook Time
35 minutes
35 min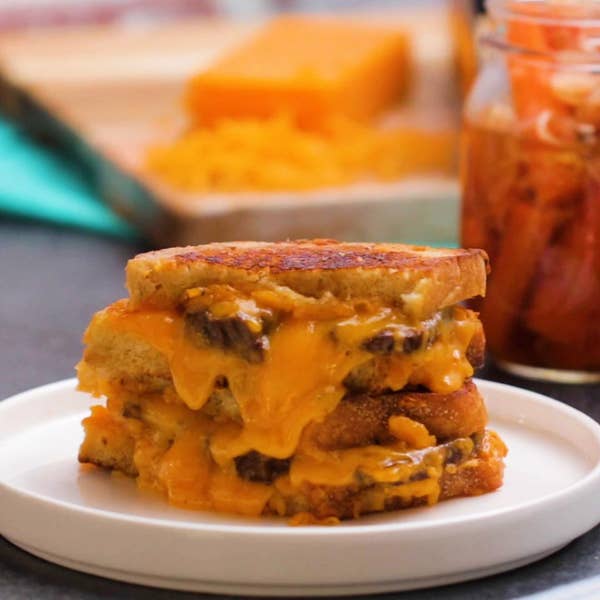 Prep Time
15 minutes
15 min
Cook Time
35 minutes
35 min
Ingredients
for 2 servings
1 cup white wine vinegar

(240 mL)

1 tablespoon kosher salt, plus more to taste
1 tablespoon whole black peppercorn
2 teaspoons red pepper flakes
4 medium carrots, cut into ½-inch (1.24 cm) wide sticks
2 cloves garlic, peeled and smashed
1 large shallot, thinly sliced
1 ¼ cups water

(300 mL)

1 tablespoon vegetable oil
8 oz flank steak

(225 g)

freshly ground black pepper, to taste
2 tablespoons unsalted butter
4 slices sourdough bread
2 cups shredded sharp cheddar cheese

(200 g)
Preparation
In a medium saucepan, combine the vinegar, 1 tablespoon salt, the peppercorns, red pepper flakes, carrots, garlic, shallot, and water. Bring to a boil over high heat and cook, stirring to dissolve the salt, for 1 minute. Remove from the heat and let cool to room temperature, about 20 minutes. (If not using immediately, transfer the carrots and their brine to an airtight container and refrigerate for up to 2 weeks.)
Meanwhile, heat the vegetable oil in a large cast-iron skillet over high heat.
Season the steak with salt and pepper. Transfer to the skillet and cook, flipping halfway, until golden brown on the outside and medium-rare inside, 6–8 minutes total. Transfer to a cutting board and let rest for 10 minutes, then thinly slice against the grain.
Return the skillet to medium heat and add the butter. Once melted, add 2 slices of sourdough bread. Top each slice with ½ cup shredded cheddar, and cook, undisturbed, until the bread is golden brown and toasted on the bottom and the cheese begins to melt, about 3 minutes. Divide the sliced steak between each slice of bread in the skillet, then top each with ½ cup of the remaining cheese and another slice of bread. Flip the sandwiches, cover the pan with a lid, and cook until the cheese has fully melted and the other side of the bread is golden brown and toasted, 2–3 minutes more.
Transfer the sandwiches to a cutting board and wrap each in foil. Serve with the pickled carrots alongside.
Enjoy!
Hate losing that perfect recipe? Save and organize recipes easily on the Tasty app. Download now.