Kimchi Grilled Cheese
Give your grilled cheese a fiery update by sneaking in tangy, charred kimchi between layers of gooey American cheese and sharp cheddar cheese.
June 25, 2020
Total Time
15 minutes
15 min
Cook Time
10 minutes
10 min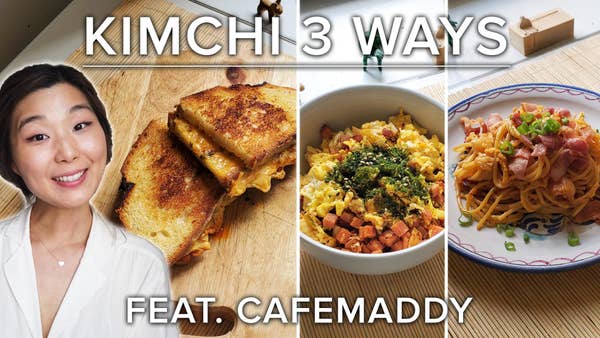 Total Time
15 minutes
15 min
Cook Time
10 minutes
10 min
Ingredients
for 1 serving
½ cup shredded sharp cheddar cheese

(50 g)

, divided
¼ cup kimchi

(15 g)

, drained
2 pieces italian bread
4 tablespoons unsalted butter, 1/2 stick
1 teaspoon olive oil
1 teaspoon sugar
2 slices american cheese
Preparation
Shred the cheddar cheese on the large holes of a box grater.
Add the kimchi to a small bowl and use kitchen shears to cut into small pieces.
Butter both sides of each slice of bread.
Heat the olive oil in a medium nonstick skillet over medium-high heat. Add the kimchi and cook until softened, about 2–3 minutes. Add the sugar and cook for an additional minute, stirring to incorporate. Transfer the kimchi to a bowl and wipe out the skillet.
Turn the heat to medium and add both slices of butter bread to the skillet. Cook until the bottom is golden brown, 3–4 minutes. Flip the bread, then add the American cheese to one slice and all but 2 tablespoons of the cheddar cheese to the other slice. Top the American cheese with the kimchi and remaining 2 tablespoons cheddar. Cook until the cheese starts to melt and the underside of the bread begins to turn golden, 3–4 minutes.
Sandwich the slices of bread together and cook, flipping once, for another 2–3 minutes, until the cheese is gooey and fully melted and the bread is well-toasted.
Transfer to a cutting board and cut in half.
Enjoy!
Busy? Plan your meals for the week using our exclusive meal planner tool in the Tasty app. Download now and get organized.