96% would make again
Steak, Egg, And Cheese Breakfast Sandwich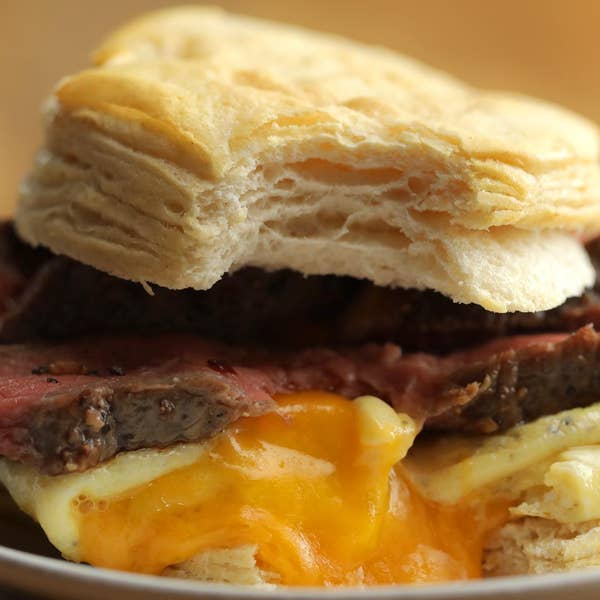 Ingredients
for 4 servings
1 lb rib eye steak

(455 g)

2 tablespoons McCormick® Grill Mates Montreal Steak Seasoning
4 large eggs
2 teaspoons water, divided
1 teaspoon salt, divided
1 teaspoon black pepper, divided
4 teaspoons butter, divided
4 slices cheddar cheese
4 biscuits, split in half
Nutrition Info
Estimated values based on one serving size.
Preparation
Generously the season steak on both sides with the McCormick Grill Mates Montreal Steak Seasoning . Press the seasoning into the meat.
Heat a greased cast-iron skillet over high heat. When hot, add the steak. Sear on both sides, about 3-4 minutes per side, until meat is cooked to desired temperature. Let steak rest for 5-10 minutes, then slice thinly against the grain.
While the steak is resting, prepare the eggs. Whisk 1 egg with ½ teaspoon water, ¼ teaspoon salt, and ¼ teaspoon black pepper. (This step will be repeated with each of the 4 eggs).
Heat a nonstick skillet over low heat. Melt 1 teaspoon of butter in the pan. Pour in the beaten egg and tilt the pan so the egg coats the pan in an even layer. Place 1 slice of cheese in the center. Use a spatula to fold the sides of the egg over the cheese until you have a square with the cheese covered in the middle. Slide the egg onto a biscuit. Top with a few slices of steak and the top biscuit half.
Repeat with the rest of the eggs, biscuits, and steak.
Serve immediately.