88% would make again
Swimming Pool
These Blue Curaçao cocktails are reminiscent of sunniest and warmest summer days. Blue Curaçao, known for its color, is authentically made from the laraha orange, an inedible bitter orange that only grows on the Dutch Caribbean island of Curaçao. 🇨🇼
Total Time
17 minutes
17 min
Prep Time
10 minutes
10 min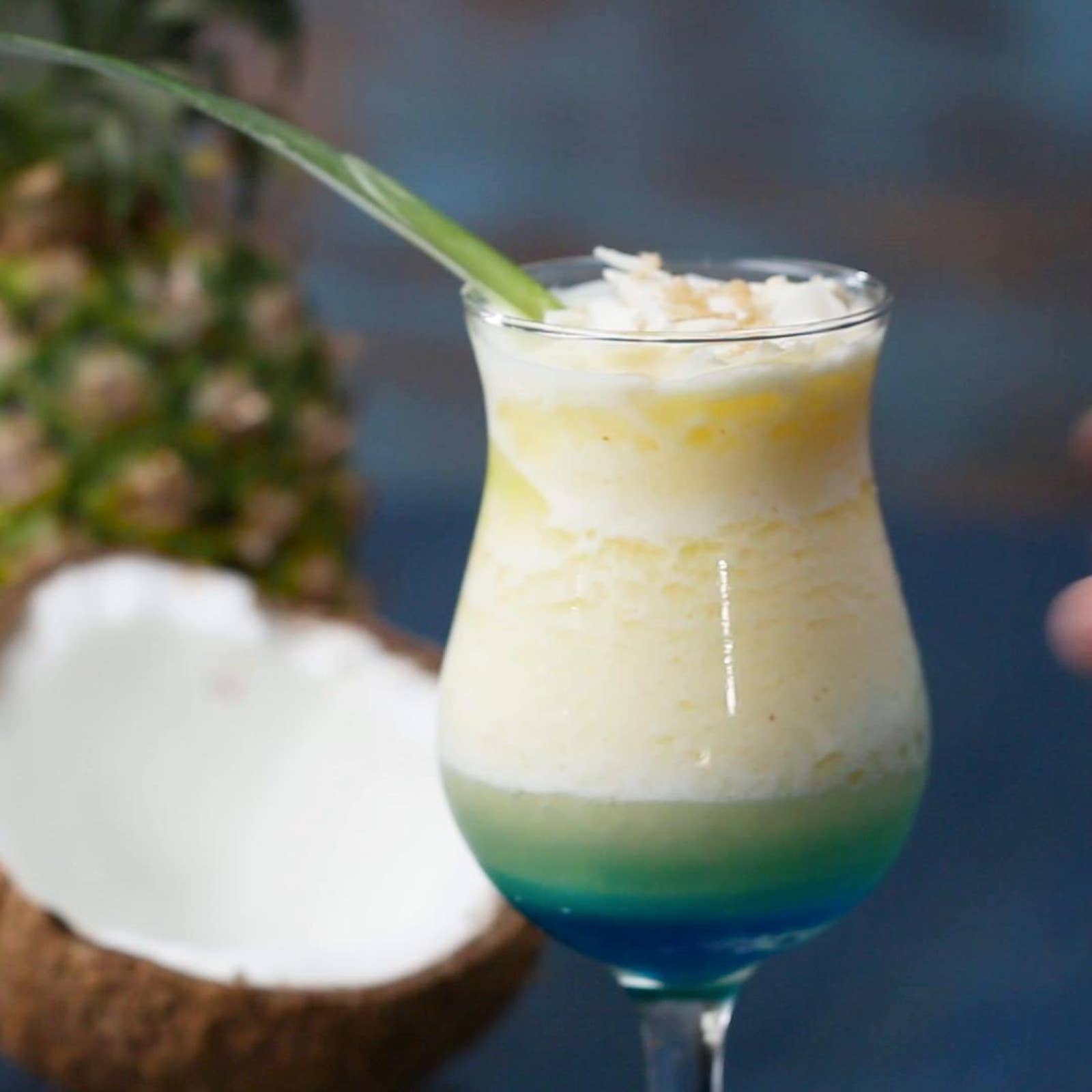 Total Time
17 minutes
17 min
Prep Time
10 minutes
10 min
Ingredients
for 1 serving
Toasted Coconut Syrup
½ cup coconut shavings

(35 g)

, unsweetened
5 oz coconut cream

(140 g)

5 oz granulated sugar

(140 g)
Cocktail
4 oz medium pineapple chunks

(115 g)

½ oz pineapple juice

(15 mL)

2 oz toasted coconut syrup

(55 g)

¾ cup coconut rum

(25 mL)

¾ oz white rum

(25 mL)

8 oz crushed ice

(225 g)

¾ oz blue curaçao

(25 mL)

1 pineapple leaf, for garnish
½ teaspoon coconut shavings, for garnish
½ teaspoon brown sugar, for garnish
Preparation
Make the toasted coconut syrup: Toast the coconut shavings in a small pot over low heat until light brown and fragrant, about 5 minutes.
Add the coconut cream and granulated sugar to the pot. Increase the heat to medium and stir until the sugar is dissolved, about 2 minutes. The mixture will look opaque. Strain the syrup into a glass jar, discarding the coconut shavings. Let cool to room temperature, then cover with the lid and chill the syrup in the refrigerator overnight. The syrup will keep in the refrigerator for up to 1 week.
Make the cocktail: Add the pineapple chunks, pineapple juice, toasted coconut syrup, the coconut rum, white rum, and ice to a blender and blend until creamy.
Fill a chilled hurricane glass with the blue curaçao. Carefully pour the frozen mixture into the glass so it sits on top of the blue curaçao .
Garnish with the pineapple leaf, coconut shavings, and brown sugar.
Enjoy!