79% would make again
Papa Smurf
Total Time
12 minutes
12 min
Prep Time
10 minutes
10 min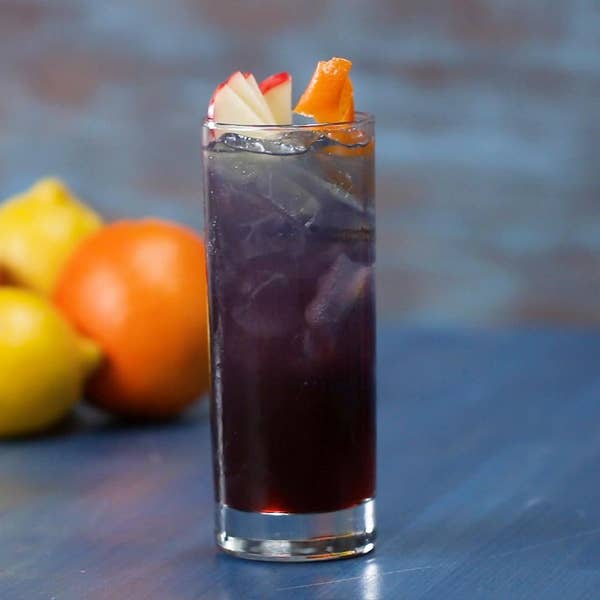 Total Time
12 minutes
12 min
Prep Time
10 minutes
10 min
Ingredients
for 1 serving
Rich Simple Syrup
1 cup water

(240 mL)

2 cups granulated sugar

(400 g)
Cocktail
¾ oz fresh lemon juice

(25 mL)

1 ¾ oz apple juice

(60 mL)

½ oz rich simple syrup

(15 g)

1 oz blue curaçao

(1 mL)

1 cup crushed ice

(140 mL)

, divided
½ oz sloeberry vodka

(15 mL)

4 apple slices, for garnish
1 orange peel, for garnish
Preparation
Make the rich simple syrup: Add the water and sugar to a small saucepan and bring to a boil over high heat. Reduce the heat to medium-low and simmer for 2 minutes, until the sugar is fully dissolved. Transfer to a glass jar and let cool. The syrup will keep in an airtight container in the refrigerator for up to 2 weeks.
Make the cocktail: Add the lemon juice, apple juice, rich simple syrup, and blue curaçao to a cocktail shaker and fill with ½ cup ice. Shake vigorously for 30 seconds, then strain into a highball glass filled with the remaining ½ cup (70 G) ice.
Float the sloeberry vodka on top of the drink. Garnish with the fanned apple slices and an orange peel.
Enjoy!