81% would make again
The Black Forest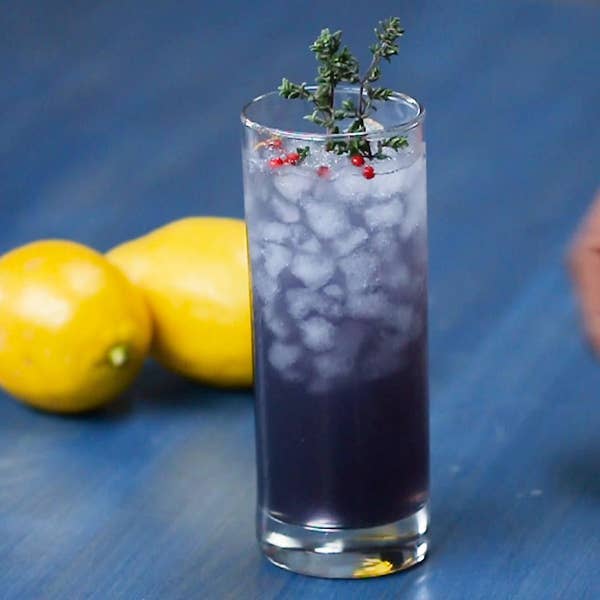 Ingredients
for 1 serving
Rich Simple Syrup
1 cup water

(240 mL)

2 cups granulated sugar

(200 g)
Cocktail
¾ oz grenadine

(25 mL)

1 oz blue curaçao

(30 mL)

½ oz rich simple syrup

(15 g)

1 ½ oz gin

(45 mL)

¾ oz fresh lemon juice

(25 mL)

1 cup crushed ice

(140 g)

1 small bunch fresh thyme, plus 2 sprigs, for garnish, divided
¼ teaspoon pink peppercorn, for garnish
Preparation
Make the rich simple syrup: Add the water and sugar to a small saucepan and bring to a boil over high heat. Reduce the heat to medium-low and simmer for 2 minutes, until the sugar is fully dissolved. Transfer to a glass jar and let cool. The syrup will keep in an airtight container in the refrigerator for up to 2 weeks.
Make the cocktail: Add the grenadine, blue curacao, rich simple syrup, gin, and lemon juice to a cocktail shaker and fill with ½ cup (70 G) ice. Shake vigorously for 30 seconds, until combined.
Carefully light the bunch of thyme on fire with a kitchen torch. Blow out the flame and invert a highball glass over the thyme to capture the smoke. Let sit for 30 seconds.
Fill the glass with the remaining ½ cup ice, strain the cocktail into the glass, and garnish with the remaining 2 sprigs of thyme and the pink peppercorns.
Enjoy!