40-Clove Garlic Bread
This easy-to-make, yet impressive garlic bread is hard not to love. In this recipe, forty cloves of garlic are drizzled with olive oil, salt and pepper, and roasted until they're soft and sweet. Then, mashed and mixed with softened butter and herbs. A sourdough bread boule is cross-hatched and then stuffed with mozzarella cheese, and lathered with our garlicky compound butter. Serve it up with some marinara sauce, or eat as is!
November 04, 2021
Total Time
1 hr 50 min
1 hr 50 min
Cook Time
1 hr 15 min
1 hr 15 min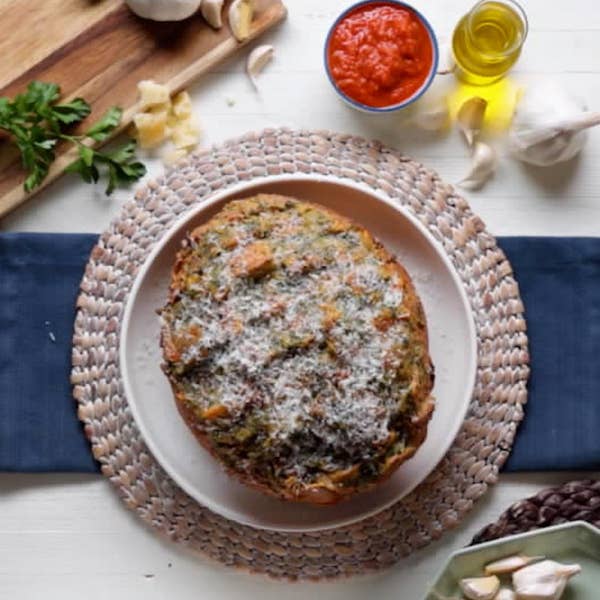 Total Time
1 hr 50 min
1 hr 50 min
Cook Time
1 hr 15 min
1 hr 15 min
Ingredients
for 8 servings
4 heads garlic
¼ cup olive oil

(60 mL)

1 ½ teaspoons kosher salt, divided
¼ teaspoon freshly ground black pepper
½ stick unsalted butter, softened
¼ cup fresh parsley

(10 g)

, minced
1 tablespoon fresh oregano, minced
1 sourdough boule
8 oz mozzarella cheese

(225 g)

, sliced into thick 2-inch-long matchsticks
2 oz parmesan cheese

(55 g)
Nutrition Info
Calories

277

Fat

15g

Carbs

22g

Fiber

0g

Sugar

2g

Protein

13g
Estimated values based on one serving size.
Preparation
Preheat the oven to 400°F (200°C). Place a sheet of foil on a small baking sheet and line another baking sheet with parchment paper.
Cut ½ inch off the tops of the garlic heads and place on the baking sheet with the foil. Drizzle the garlic with the olive oil and season with 1 teaspoon salt and the black pepper. Place the tops back on each garlic bulb. Bring up the corners of the foil around the garlic, then roll closed to form a tight packet. Place in the oven and roast until the garlic is caramelized, about 45 minutes. Remove from the oven and let sit for 30 minutes, until cool enough to handle. Leave the oven on.
Unwrap the foil packet and squeeze the heads to release the roasted garlic cloves into a medium bowl. Mash with a fork until a thick paste forms (some chunks are okay).
Add the butter, parsley, oregano, and remaining ½ teaspoon salt and stir to combine.
Using a serrated knife, carefully cut the bread into 1-inch-thick (2.54 cm) slices, stopping ½ inch (1.24 cm) from the bottom of the loaf to keep intact. Turn the loaf 90° and repeat cutting in the opposite direction.
Place the loaf on the parchment-lined baking sheet and stuff the mozzarella between the bread slices. Spread the roasted garlic butter over the entire loaf.
Place the loaf into the oven and bake until the cheese is melted and the top of the loaf is golden brown and crispy, 25–30 minutes.
Remove the loaf from the oven and transfer to a serving platter. Grate the Parmesan cheese directly over the top. Serve hot.
Enjoy!