Banana Bread Pancakes With Grilled Maple Rum Bananas
If you love banana bread, these banana bread pancakes are a must-try! With caramelized grilled bananas and a to-die-for maple rum sauce, these pancakes make the most satisfying brunch. This content is intended solely for users of legal drinking age. Drink responsibly.
March 02, 2022
Total Time
45 minutes
45 min
Prep Time
15 minutes
15 min
Cook Time
30 minutes
30 min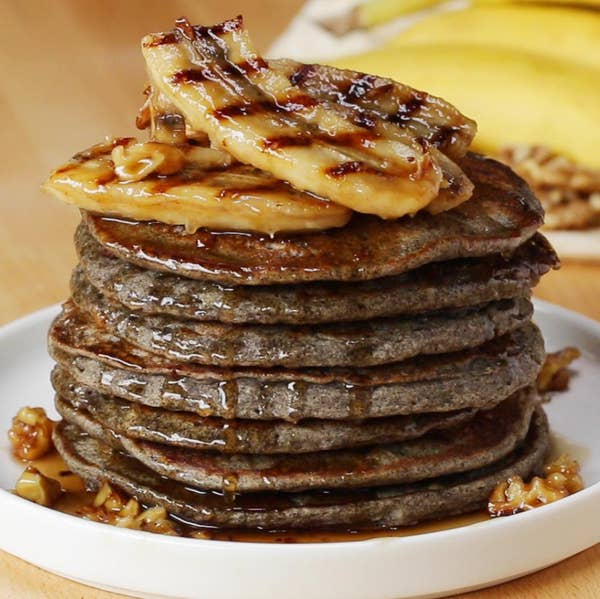 Total Time
45 minutes
45 min
Prep Time
15 minutes
15 min
Cook Time
30 minutes
30 min
Ingredients
for 6 servings
Buckwheat Banana Bread Pancakes
1 tablespoon flax seed
3 tablespoons cold water
1 ripe banana
1 ½ cups non dairy milk

(360 mL)

, unsweetened
3 tablespoons maple syrup
1 tablespoon apple cider vinegar
2 tablespoons refined coconut oil, melted
2 teaspoons vanilla extract
¾ cup all-purpose flour

(95 g)

¾ cup buckwheat flour

(95 g)

1 teaspoon baking powder
¼ teaspoon baking soda
½ teaspoon kosher salt
nonstick cooking spray, for greasing
Grilled Bananas
6 tablespoons butter, melted
3 tablespoons maple syrup
3 firm bananas, cut in half, then lengthwise
Maple Rum Sauce
⅔ cup walnuts

(65 g)

, chopped
¾ cup maple syrup

(250 g)

⅓ cup brown sugar

(75 g)

8 tablespoons butter, divided
¼ cup dark rum

(60 mL)

½ teaspoon kosher salt
Nutrition Info
Calories

804

Fat

46g

Carbs

91g

Fiber

15g

Sugar

48g

Protein

8g
Estimated values based on one serving size.
Preparation
Preheat the oven to 200°F (95°C).
Make the pancakes: In a small bowl, combine ground flax meal and cold water. Stir well. Set aside to gel for 10 minutes while you prepare the rest of the batter.
In a large bowl, use the back of a fork to mash the banana until smooth. Add the nondairy milk, maple syrup, apple cider vinegar, coconut oil, vanilla, and flax egg and whisk to combine.
Sift in the all-purpose flour, buckwheat flour, baking powder, baking soda, and salt. Using a spatula, stir well until there are no dry spots remaining.
Heat a griddle pan to 350°F (180°C). If using stovetop, place a frying pan over medium heat. Lightly grease the griddle or pan with nonstick spray.
Working in batches, use a ½ cup (120 ml) measure to scoop the batter onto the hot griddle. Cook the pancakes for 3–4 minutes, until bubbles form all over the surface and the bottom is golden brown and releases easily from the pan. Flip and cook for another 3–4 minutes on the other side, until golden brown and completely cooked through. Repeat with the remaining batter.
Place the cooked pancakes on a baking sheet and transfer to the oven to keep warm while you prepare the rest of the ingredients.
Make the grilled bananas: Increase the griddle temperature to 375°F (190°C). If using stovetop, place a frying pan over medium-high heat.
In a medium bowl, mix together the melted butter and maple syrup.
Brush each banana segment all over with the melted butter mixture. Working in batches, grill the bananas for 2–3 minutes on one side, then flip and grill for another 1–2 minutes, until golden brown grill marks appear and the banana is soft. Set aside until ready to serve.
Make the maple rum sauce: Add the walnuts to a small saucepan and turn the heat to medium-high. Toast the walnuts for about 1 minute, until fragrant and beginning to brown, then remove from the pan and set aside.
To the same saucepan, add maple syrup and brown sugar and cook until the brown sugar is melted and beginning to bubble, 3–4 minutes. Add the toasted walnuts and 6 tablespoons of butter to the pan and cook until the butter melts.
Reduce the heat to medium-low and add the rum. Cook for 1–2 minutes, until the alcohol cooks off. Remove the pot from the heat and add the remaining 2 tablespoons of butter and the salt. Stir to melt the butter. Let the sauce cool for 10 minutes before serving.
To serve, top the warm pancakes with the grilled bananas and maple rum sauce.
Enjoy!