95% would make again
Frozen Personal Pizza Prep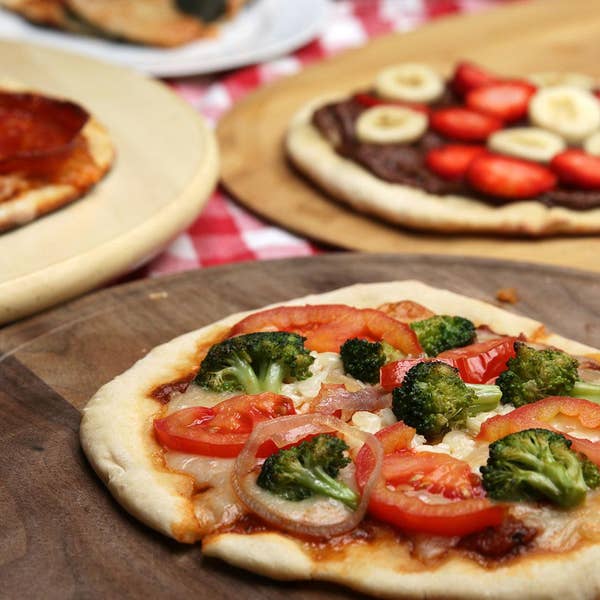 Inspired by thekitchn.com
Ingredients
for 4 servings
1 lb pizza dough

(455 g)

, store-bought or homemade
flour
To Serve
tomato sauce
mozzarella cheese
fresh basil leaf
pepperoni
tomato, sliced
broccoli floret, sautéed
onion, sliced, sautéed
chocolate hazelnut spread
strawberry, sliced
banana, sliced
Nutrition Info
Estimated values based on one serving size.
Preparation
Preheat oven to 450°F (230°C).
Place a parchment paper-lined baking sheet in the oven.
To make four personal-sized pizzas, divide pizza dough into fourths.
Roll out each piece of dough to desired thickness.
To par-bake the pizza rounds, arrange the pizza dough rounds on the hot baking sheet.
Bake for 3-4 minutes or until dough looks puffy and dry. Dough should not be golden brown.
Cool pizza rounds on a wire rack.
When cool, top your rounds with desired toppings.
Place prepared pizzas on a baking sheet and freeze, uncovered, for 3 hours so the toppings adhere to one another.
Wrap the now-frozen pizzas in plastic wrap and aluminum foil to prevent freezer burn. Label each pizza as desired and freeze for 1-2 months.
To bake frozen pizzas, preheat the oven to 450°F (230°C).
Unwrap pizza and place directly on rack or parchment-lined baking sheet.
Bake for 15-18 minutes, or until crust is brown and cheese is melted.
Cool for 5 minutes. Cut into slices before serving.
Enjoy!