89% would make again
Jalebi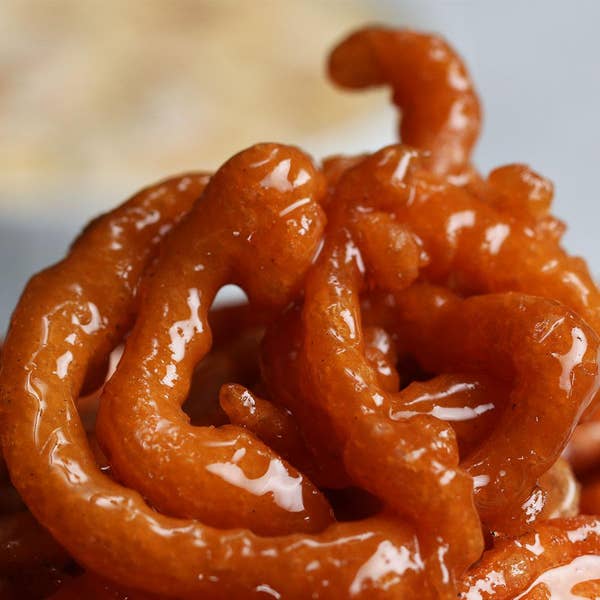 Ingredients
for 50 doughnuts
1 cup all-purpose flour

(125 g)

1 teaspoon baking powder
1 pinch baking soda
3 tablespoons plain yogurt
½ teaspoon ground cardamom, divided
1 cup water

(240 mL)

, plus 1 tablespoon, divided
¼ teaspoon turmeric powder, optional, or 2 drops of orange food coloring
1 cup sugar

(200 g)

3 strands saffron
½ teaspoon lemon juice
oil, for frying
rabri, for serving
Nutrition Info
Estimated values based on one serving size.
Preparation
In a large bowl, whisk together the flour, baking powder, and baking soda.
Add the yogurt and ¼ teaspoon of cardamom.
Add ½ cup (120 ml) of water and the orange food coloring. The batter should have the consistency of a thick pancake batter. Add more water if needed.
Cover and let rest in a warm place for 10-12 hours to ferment, or until small bubbles develop on top of the batter.
Once the batter has fermented, add the sugar and ½ cup (120 ml) of water to a small saucepan. Bring to a boil over medium heat.
Add the remaining ¼ teaspoon of cardamom, the saffron strands, and lemon juice.
Simmer until a sticky syrup develops, about 5 minutes.
Whisk the batter and add a tablespoon of water if the batter looks too thick. Transfer to a squeeze bottle or piping bag.
Heat oil in a large skillet over medium-low until it reaches 350°F (180°C).
Squeeze the batter into the hot oil, making small circular spiral shapes.
Increase the heat to medium-high.
Fry the dough shapes until they are crispy on both sides, about 5 minutes.
Remove and immediately dip in the syrup mixture.
Serve with rabri, if desired.
Enjoy!