Cinnamon Roll Pancakes With Chloe Coscarelli
Whip up a batch of these scrumptious Cinnamon Roll Pancakes by Chloe Coscarelli for a delightful twist on a classic breakfast favorite. You'll be drooling over the heavenly swirls of cinnamon sugar and the luscious, creamy glaze drizzled on top.
May 04, 2023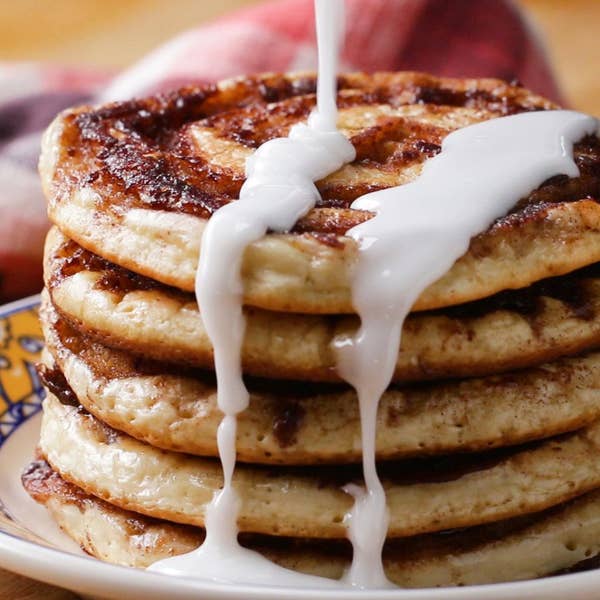 Ingredients
for 2 pancakes
1 cup all-purpose flour

(125 g)

2 teaspoons baking powder
½ teaspoon sea salt
1 cup almond milk

(240 mL)

2 tablespoons maple syrup
3 tablespoons vegan margarine, or refined coconut oil, at room temperature
5 tablespoons light brown sugar
2 teaspoons ground cinnamon
vegetable oil, for greasing
Glaze
2 cups confectioners sugar

(240 g)

¼ cup water

(60 mL)
Preparation
In a large bowl, whisk together the flour, baking powder, and salt. In a small bowl or measuring cup, whisk together the almond milk and maple syrup.
Add the wet ingredient to the dry and whisk to combine. Do not overmix.
In a small bowl, mix together the margarine, brown sugar, and cinnamon. Transfer to a pastry bag or plastic zip-top bag and snip off one corner.
Lightly grease a large nonstick skillet or griddle and heat over medium heat. When the pan shimmers, measure out ¼ cup (35 g) of the batter (or eyeball it) and pour it onto the skillet. Pipe a circular swirl of the cinnamon mixture into the batter. Repeat to fill the skillet.
When small bubbles appear in the center of the pancakes, after about 4 minutes, flip.
Cook on the other side for about 1 minute more, until lightly browned and cooked through. Repeat with the remaining batter, adding more oil to the skillet between batches as needed.
In a small bowl, combine the confectioners' sugar and water and whisk until smooth.
Drizzle the pancakes with the glaze and serve.
Enjoy!
Cook smarter, not harder. Use our AI chef Botatouille on the Tasty app. Download now.