Korean-Style BBQ Pork Ribs
Get your fingers sticky with these deliciously saucy Korean style BBQ ribs 🍖
August 14, 2023
Total Time
2 hr 25 min
2 hr 25 min
Prep Time
15 minutes
15 min
Cook Time
2 hr 10 min
2 hr 10 min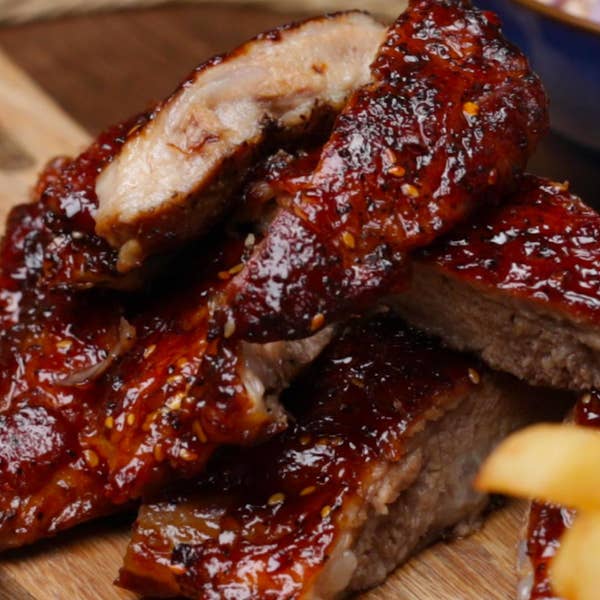 Total Time
2 hr 25 min
2 hr 25 min
Prep Time
15 minutes
15 min
Cook Time
2 hr 10 min
2 hr 10 min
Ingredients
for 2 servings
For the sauce:
3 tablespoons sesame oil
2 teaspoons rice wine vinegar
3 tablespoons dark soy sauce
4 tablespoons honey
30 mL bourbon whiskey

(30 mL)

15 mL fresh lime juice

(15 mL)

4 medium cloves garlic cloves, finely chopped
2 teaspoons smoked paprika
4 tablespoons dark muscovado sugar
1 teaspoon red chili flakes
2 teaspoons corn flour
1 teaspoon sesame seeds
For the ribs:
1 whole rack of pork ribs
For the rub:
1 tablespoon kosher salt
1 tablespoon pepper
1 tablespoon dark muscovado sugar
Preparation
Preheat the oven to 150 degrees celsius.
Mix together the salt, pepper and sugar for the rub and apply liberally over the ribs.
Wrap entirely in foil and bake in the oven for 2 hours at 150 degrees celsius / 300 degrees Fahrenheit.
In a saucepan, combine all of the sauce ingredients and bring to a boil then immediately reduce the heat until the sauce thickens and then set aside.
Remove the ribs from the oven and unwrap from the foil. Brush a generous amount of the BBQ sauce over both sides of the ribs and place back in the oven for a further 10 minutes.
Remove from the oven, brush more bbq sauce on and sprinkle with sesame seeds.
Enjoy!
Cook smarter, not harder. Use our AI chef Botatouille on the Tasty app. Download now.