94% would make again
Maple Bacon Sweet Potato Soup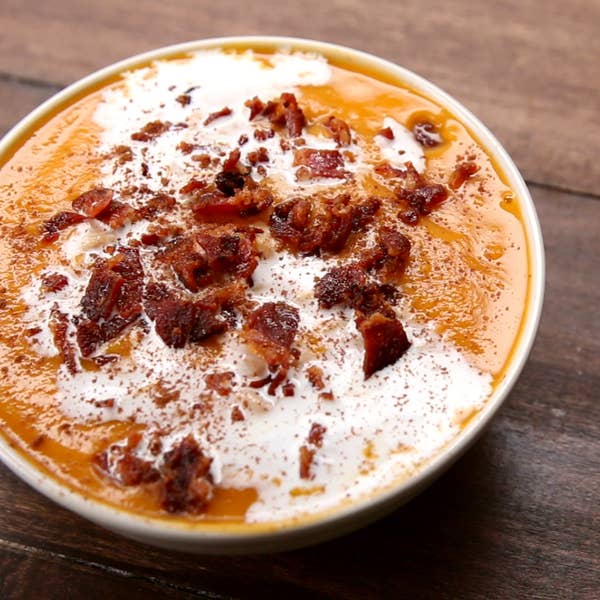 Ingredients
for 6 servings
3 strips bacon
2 tablespoons maple syrup, plus more for brushing onto bacon
1 tablespoon butter
½ yellow onion, diced
2 lb sweet potato

(910 g)

¼ tablespoon cinnamon
¼ teaspoon nutmeg
¼ teaspoon cayenne pepper
salt, to taste
pepper, to taste
1 cup chicken broth
Garnish
heavy cream, optional
cinnamon, optional
Nutrition Info
Estimated values based on one serving size.
Preparation
Lay 3 slices of bacon on a greased pan.
Bake for 20 minutes at 400°F (200°C), flip once halfway through.
Dab off any extra oil and brush maple syrup on both sides of the bacon.
Bake for an additional 3-5 minutes (until the bacon is crispy).
Cut up the bacon into small pieces and set aside for garnishing the soup later.
Melt 1 Tbsp. of butter. Add in the onion, stir, and cook on medium heat until fragrant.
Add in the sweet potatoes, chicken broth, and spices. Cover and bring to a boil.
Let simmer for 15-20 minutes until the potatoes have softened. Add 2 tbsp of maple syrup and stir.
Then blend with an immersion blender or transfer to a blender and blend in batches until smooth and well-combined.
Serve up and garnish with heavy cream (optional), the maple bacon, and a sprinkle of cinnamon (optional).
Enjoy!