One-Pan Cider-Braised Pork Chops
Savor the flavors of fall with these One-Pan Cider-Braised Pork Chops that'll have your taste buds dancing! This easy, mouthwatering dish combines tender pork chops, sweet apples, and tangy cider for a cozy meal you'll crave all season long.
May 04, 2023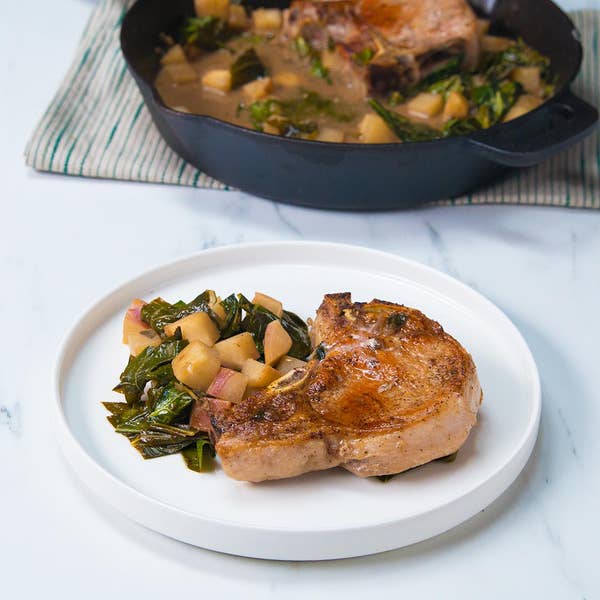 Ingredients
for 2 servings
Brine
4 cups water

(960 mL)

2 dried bay leaves
4 cloves garlic, crushed
1 tablespoon whole black peppercorns
⅓ cup sea salt

(80 g)

4 cups ice

(560 g)
Pork Chops
2 bone-in pork chops, about 1-inch (2 -cm) thick
sea salt, to taste
freshly ground black pepper, to taste
1 tablespoon high-heat cooking oil, such as vegetable or peanut
2 shallots, diced
3 cups diced turnips

(450 g)

1 tablespoon dijon mustard
1 tablespoon chopped fresh sage
2 cups apple cider

(480 mL)

1 cup reduced-sodium chicken stock

(240 mL)

1 bunch collard greens, stemmed and roughly chopped
Nutrition Info
Calories

771

Fat

40g

Carbs

62g

Fiber

15g

Sugar

36g

Protein

47g
Estimated values based on one serving size.
Preparation
Make the brine: Combine the water, bay leaves, garlic, peppercorns, and salt in a medium pot over medium heat and stir until the salt is dissolved.
Remove the brine from heat and stir in the ice cubes.
Once the brine is cooled, add the pork chops to a glass dish and pour the brine over. Chill in the refrigerator for 1-10 hours.
Preheat the oven to 350˚F (180˚C).
Remove the pork chops from the brine and pat dry. Season generously with salt and pepper on both sides.
Heat the oil in a large cast iron or other ovenproof skillet over medium-high heat until nearly smoking. Add the pork chops and sear without disturbing until caramelized and browned on the first side, about 2 minutes, then flip and sear on the other side. Remove the pork chops from the pan and set aside.
Add the shallots to the pan and cook until they begin to soften and caramelize, stirring occasionally, about 2 minutes.
Add the turnips and season with salt, then spread in an even layer and let caramelize, stirring occasionally, about 5 minutes.
Stir in the mustard and sage. Cook for 1 minute more.
Pour in the apple cider and chicken stock. Bring to a boil, then reduce the heat to medium-low and simmer until the liquid is reduced by half, about 7 minutes.
Add the collard greens and stir to incorporate. Nestle the pork chops into the sauce, making sure that they are partly submerged.
Transfer the pan to the oven and cook for about 12 minutes, until the internal temperature of the pork chops reaches 135˚F (57˚C).
Remove from the oven and let rest for 10 minutes as the internal temperature continues to rise to 145˚F (63˚C).
Divide the pork chops, vegetables, and sauce between plates and serve.
Nutrition, Pork Chops without braising liquid: Calories: 470, Total fat: 27 grams, Sodium: 790 grams, Total carbs: 48 grams, Dietary fiber: 7 grams, Sugars: 6 grams, Protein: 48 grams Braising Liquid, ¼ cup (60 ml) serving - Calories: 20, Total fat: 0, Sodium: 48 grams, Total carbs: 5 grams, Dietary fiber: 0 grams, Sugars: 4 grams, Protein: 0 grams
Enjoy!
Love this recipe? Download the Tasty app to save it and discover others like it.