Peppermint Mocha Crockpot Eggnog With Dipping Deer
August 14, 2023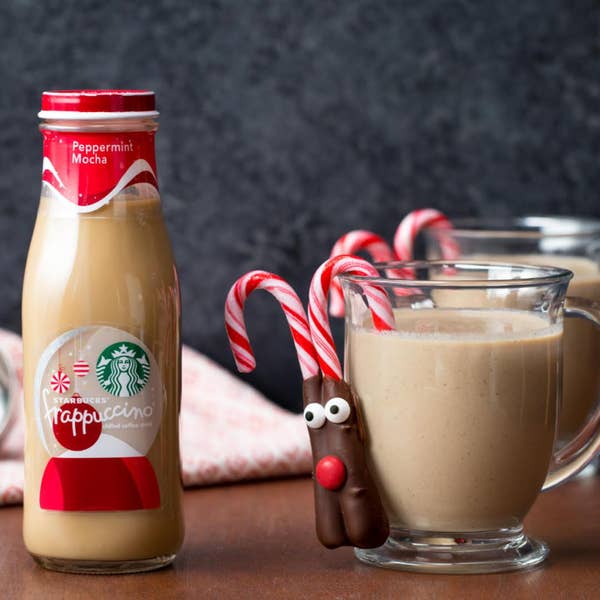 Ingredients
for 10 servings
Peppermint Mocha Eggnog
1 cinnamon stick
1 tablespoon semisweet chocolate chips, or chocolate shavings
9 large egg yolks
¼ cup granulated sugar

(25 g)

2 cups whole milk

(480 mL)

1 ½ cups heavy cream

(360 mL)

1 bottle Starbucks® Peppermint Mocha Frappuccino®
1 teaspoon vanilla extract
¼ cup freshly grated nutmeg
1 pinch kosher salt
Dipping Deer
1 ½ cups semisweet chocolate chips

(260 g)

20 candy canes
20 candy eyes
10 red chocolate-covered candies
This recipe isn't available to shop.
Unfortunately, not all our recipes can be shopped through Tasty.
Preparation
Make the peppermint mocha eggnog: Add the cinnamon stick and chocolate chips to a slow cooker and turn the heat to high.
In a large bowl, vigorously whisk together the egg yolks and sugar until well combined. Whisk in the milk, heavy cream, Starbucks® Peppermint Mocha Frappuccino®, vanilla, nutmeg, and salt.
Pour the egg mixture into the slow cooker and reduce the heat to low. Cook, whisking occasionally to ensure that the chocolate melts and the eggs do not curdle, for about 3 hours, or until the mixture thickens slightly and the temperature reaches 160°F (70°C).
Make the dipping deer: Add the chocolate chips to a microwave-safe tall glass or jar. Microwave in 30-second intervals, stirring between, until completely melted, (If you don't have a tall, heatproof vessel, microwave the chocolate chips in a heatproof bowl and pour into a glass or jar once melted).
Line a baking sheet with parchment paper.
Dip the bottom of a candy cane in the chocolate to coat about ⅔ of the way up the shaft (leaving enough of the hook uncovered to look like antlers). Gently shake off any excess chocolate and lay flat on the prepared sheet. Dip a second candy cane, then place directly next to the first candy cane so they hold together with the hooks facing opposite directions. Immediately place 2 candy eyes toward the top of the chocolate-dipped part and one red candy below the eyes to make the nose. Repeat with the remaining ingredients for 10 reindeer total. Transfer the baking sheet to the refrigerator for at least 10 minutes to harden, or until ready to use.
Serve the dipping deer alongside the eggnog.
Enjoy!