Pork Pozole Rojo
Chef Bella Lopez's twist on a classic Mexican soup will heal you from the inside out. Packed with three types of chiles and 20 cloves of garlic, this soul-warming pozole is perfect for the fall and winter months. Grab a bowl and top with all of your favorite garnishes, like cabbage, dried oregano, and lime juice. You can find all of the ingredients at your local Walmart. #WalmartPartner
November 06, 2023
Total Time
1 hr 45 min
1 hr 45 min
Prep Time
15 minutes
15 min
Cook Time
1 hr 30 min
1 hr 30 min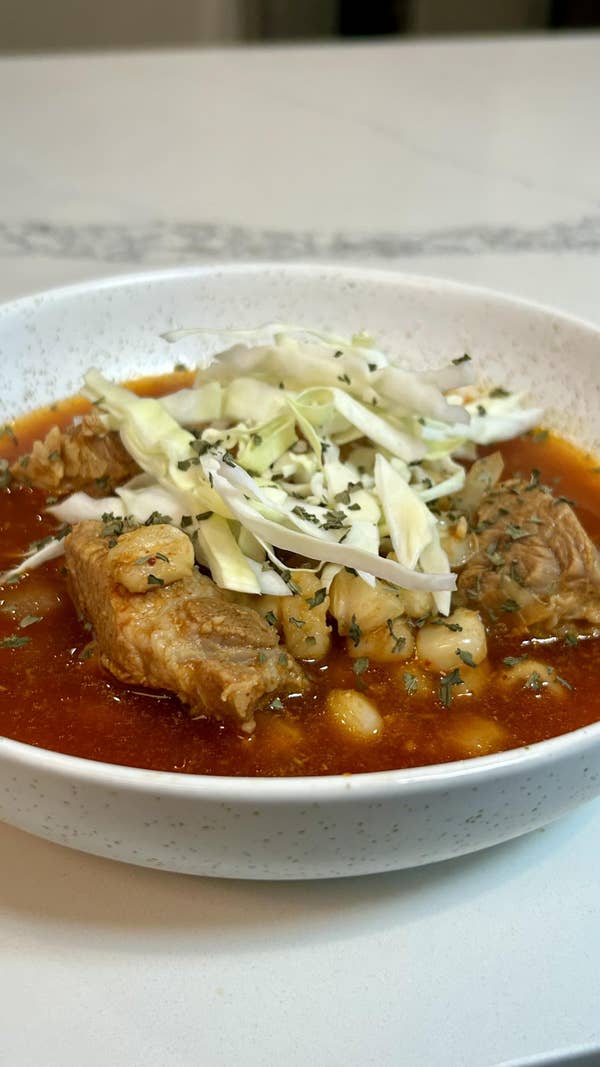 Total Time
1 hr 45 min
1 hr 45 min
Prep Time
15 minutes
15 min
Cook Time
1 hr 30 min
1 hr 30 min
Ingredients
for 6 Servings
1 white onion
20 garlic cloves
1 dried ancho chile, seeds and stems removed
6 dried arbol chiles, seeds and stems removed
4 dried japones chiles, seeds and stems removed
4 dried guajillo chiles, seeds and stems removed
12 cups water, plus more as needed
1 ½ lb pork stew meat
½ tablespoon kosher salt, plus more to taste
1 dried bay leaf
1 tablespoon minced garlic
2 15.5-ounce cans Great Value™ Hominys
For Garnish
shredded cabbage
mexican oregano
Lime wedge
Nutrition Info
Calories

217

Fat

10g

Carbs

17g

Fiber

16g

Sugar

3g

Protein

16g
Estimated values based on one serving size.
Preparation
Cut the onion in half. Dice one half and cut the other half into quarters.
In a medium pot, combine the quartered onion, whole garlic cloves, a pinch of salt, and the ancho, arbol, japones and guajillo chiles with enough water to cover and bring to a boil over medium heat. Cook until the chiles are tender, about 30 minutes.
Transfer the chiles, onion, and garlic from the pot to a blender. Add 1 cup of the chile cooking liquid and blend until smooth, 2-3 minutes. Strain the puréed chiles through a fine-mesh sieve into a medium bowl to remove any solids.
In a large pot, combine 12-18 cups of water, the pork, diced onion, salt, bay leaf, and minced garlic. Bring to a simmer over medium-low heat and cook until the meat is cooked through, about 30 minutes.
Pour the puréed chiles into the pot with the pork. Stir in the hominy, then cover and simmer for about 45 minutes, or until the pork is tender. Season with salt to taste.
Ladle the hot pozole into bowls and top with shredded cabbage and Mexican oregano. Serve with lime wedges alongside.
Enjoy!
All your favorite recipes, stored in one place. Download the Tasty app and never lose a recipe again.