79% would make again
Pulled Eggplant BBQ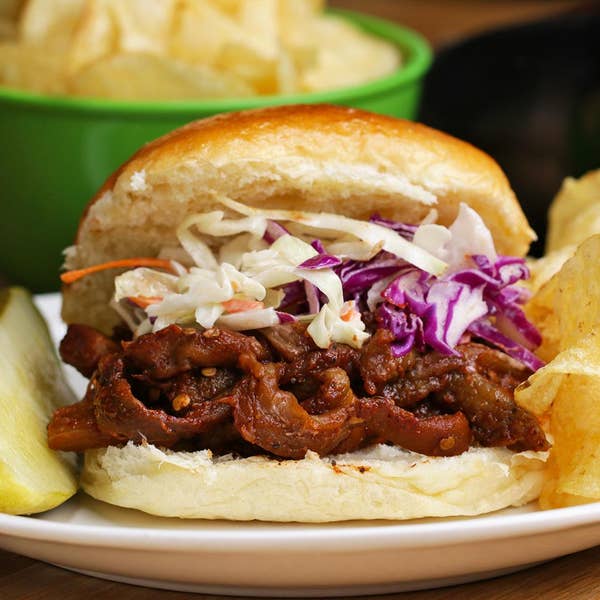 Inspired by liveandleteat.com
Ingredients
for 6 servings
3 medium eggplants
1 teaspoon cumin
½ teaspoon chili powder
1 teaspoon garlic powder
1 teaspoon paprika
1 teaspoon smoked paprika
½ teaspoon cayenne pepper
1 tablespoon brown sugar
1 teaspoon salt
1 teaspoon pepper
1 ½ cups vegetarian barbecue sauce

(435 g)

6 buns
coleslaw, for serving, optional
Nutrition Info
Estimated values based on one serving size.
Preparation
Preheat the oven to 400°F (200°C).
Place the eggplant on a non-stick baking sheet and prick all over with a fork. Bake for 20 minutes, until the skin is wrinkled. Reduce the oven temperature to 180°F (80°C).
Transfer the eggplant to a large bowl and cover. Let cool and sweat for 10-15 minutes, until the skin peels off easily, and they are cool enough to handle.
Trim the stems from the eggplant and remove the skin completely. Tear the eggplant flesh into thin strips and set aside.
In a small bowl, combine the cumin, chili powder, garlic powder, paprika, smoked paprika, cayenne, brown sugar, salt, and pepper and mix well.
Add the eggplant strips to a non-stick baking sheet and sprinkle with the spice mix. Mix well with your hands to coat.
Bake for 45-50 minutes, until the ends of the eggplant strips start to dry out.
Increase the oven temperature to 250°F (120°C)
Pour the barbecue sauce over the eggplant and toss well to coat.
Bake for 15 minutes more, until the sauce has been absorbed by the eggplant.
Pile the eggplant on the buns and top with coleslaw, if desired.
Enjoy!