Salted, Malted Cookie Dough Ice Cream By Salt & Straw
This homemade ice cream is a decadent treat that combines the classic flavors of chocolate chip cookies and ice cream. Chunks of malted cookie dough are mixed with a molasses ice cream base. It's a delicious and indulgent dessert that is perfect for any occasion.
May 04, 2023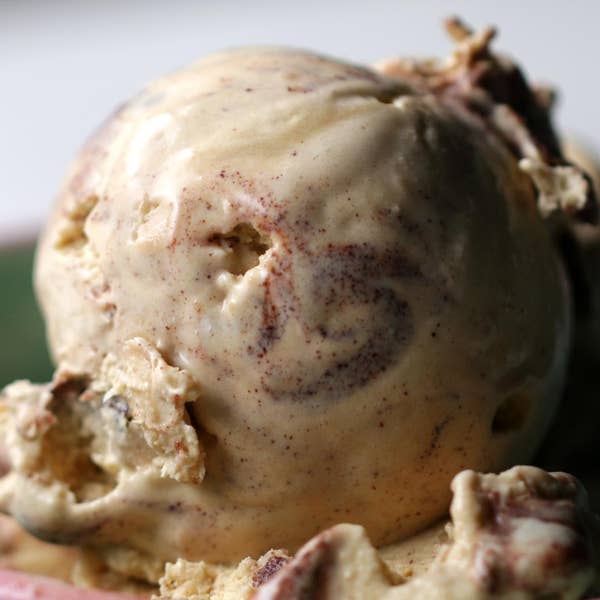 Ingredients
for 6 servings
Molasses Vanilla Ice Cream Base
½ cup granulated sugar

(100 g)

2 tablespoons milk powder
½ teaspoon salt
¼ teaspoon xanthan gum
1 ⅓ cups whole milk

(320 mL)

2 tablespoons light corn syrup
1 teaspoon molasses
1 ⅓ cups heavy cream

(320 mL)

2 teaspoons vanilla extract
​Malted Cookie Dough
¼ cup unsalted butter

(60 g)

, room temperature, 1/2 stick
2 tablespoons granulated sugar
¼ cup brown sugar

(55 g)

1 teaspoon salt
2 tablespoons heavy cream
1 teaspoon molasses
1 tablespoon corn syrup
1 teaspoon vanilla extract
½ cup all-purpose flour

(60 g)

, baked at 350°F (180°C) for 10 minutes
2 tablespoons malt powder
¼ cup semi-sweet chocolate chips

(45 g)

, chopped into bits
Malted Fudge
1 tablespoon cold water
2 teaspoons malt powder
½ cup corn syrup

(110 g)

½ cup heavy cream

(120 mL)

1 tablespoon unsalted butter
⅛ teaspoon kosher salt
1 tablespoon cocoa powder
½ cup 80% chocolate

(85 g)

, chopped
Nutrition Info
Calories

572

Fat

42g

Carbs

51g

Fiber

10g

Sugar

39g

Protein

6g
Estimated values based on one serving size.
Preparation
To make the ​Malted Cookie Dough, in a large bowl, cream together the butter, granulated sugar, brown sugar, and salt with a wooden spoon until a light paste forms.
Add the heavy cream, molasses, corn syrup, and vanilla and stir until smooth.
Sift in the toasted flour and malt powder, then mix until there are no lumps.
Fold in the chocolate until evenly distributed.
Spread the cookie dough evenly in a parchment-lined baking dish until it's about ½-inch (1 cm) thick, then freeze until solid, about 1 hour.
Cut the cookie dough into ½-inch (1 cm) cubes and freeze for later use. It keeps up to 1 month.
To make the Molasses Vanilla Ice Cream Base, combine the sugar, dry milk powder, salt, and xanthan gum in a small bowl, and stir well.
In a medium pot over medium heat, combine the milk, corn syrup, and molasses, whisking until combined. Add the sugar mixture and whisk vigorously until there are no lumps. Cook for 2-3 minutes, until the sugar is dissolved, then remove the pot from the heat.
Pour the mixture into a large liquid measuring cup or medium bowl, then mix in the cream and vanilla.
Cover and refrigerate for at least 6 hours before churning. It can be stored in the fridge for up to 1 week or in the freezer for up to 3 months.
To make the malted fudge, mix the water and malt powder together in small pot. Add the corn syrup, heavy cream, butter, and salt.
Heat the pot over medium-high heat until the butter is completely melted and the mixture comes to a boil.
Remove the pot from the heat and add the cocoa powder and chopped chocolate, whisking thoroughly until the chocolate is fully melted and the mixture is silky.
Transfer to an airtight container and store in the fridge for up to 1 week.
Pour the ice cream base into an ice cream maker and turn on the machine. Churn just until it has the texture of soft serve, 25-35 minutes, depending on the machine.
Fold in half of the cookie dough cubes until well-distributed.
Alternate spooning layers of the ice cream and ​a few generous dollops of the fudge into a loaf pan.
Cover with plastic wrap and store in the coldest part of your freezer for at least 6 hours before scooping and serving. The ice cream will keep up to 6 months.
Enjoy!
All your favorite recipes, stored in one place. Download the Tasty app and never lose a recipe again.