Savory Sweet Potato Casserole
August 14, 2023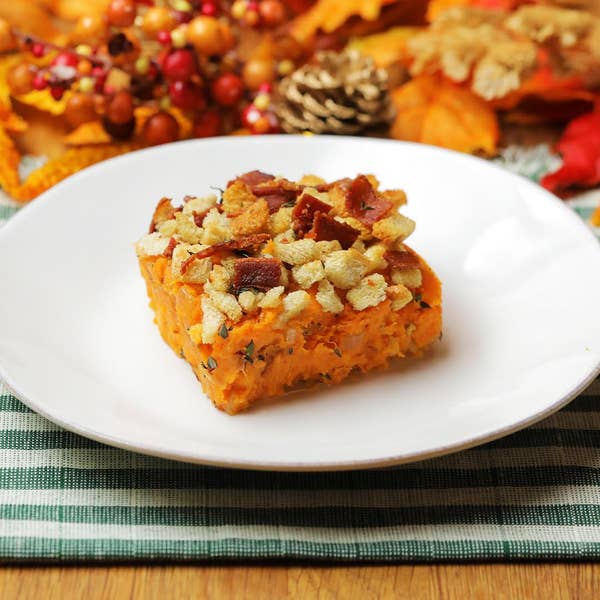 Ingredients
for 9 servings
Casserole
3 lb Kroger Sweet Potatoes

(600 g)

6 slices bacon
1 small yellow onion, chopped
½ teaspoon fresh thyme, chopped
½ teaspoon fresh rosemary, chopped
⅓ cup kroger heavy whipping cream

(80 mL)

1 large egg
¾ teaspoon kosher salt
freshly ground black pepper, to taste
1 cup shredded gruyère cheese

(100 g)
Topping
2 tablespoons unsalted butter
1 ½ cups crumbled herb stuffing

(220 g)

1 teaspoon fresh thyme, for garnish
This recipe isn't available to shop.
Unfortunately, not all our recipes can be shopped through Tasty.
Preparation
Preheat the oven to 425°F (220°C).
Place the sweet potatoes on a baking sheet and poke each one a few times with a fork. Bake for 40–50 minutes, or until very soft. Remove from the oven and let cool until easy to handle. Reduce the oven temperature to 350°F (180°F).
Meanwhile, cook the bacon in a medium skillet over medium heat until crispy. Transfer to a paper towel–lined plate to drain.
Pour out all but 2 tablespoons of bacon grease from the skillet. Add the onion to the skillet and cook over medium heat for about 5 minutes, or until soft and translucent. Add the thyme and rosemary, and cook, stirring, until fragrant, about 1 minute. Remove the pan from the heat and let the onions cool slightly.
Scoop the flesh of the sweet potatoes into a large bowl, discarding the skins. Add the cream, egg, salt, and pepper, and stir to combine. Add the onions and Gruyère cheese, and stir to incorporate.
Transfer the sweet potato mixture to a 9-inch square glass baking dish.
Make the topping: In the same skillet, melt the butter over medium heat. Add the stuffing and stir until warmed through and slightly toasted, about 2 minutes.
Sprinkle the crumbled stuffing evenly over the sweet potatoes. Crumble the bacon and evenly sprinkle on top.
Cover the baking dish with foil and bake for 30 minutes, until heated through. If desired, remove the foil and broil on high until the topping is lightly browned, 1–2 minutes. Keep an eye on the casserole so it does not burn.
Remove the casserole from the oven and garnish with fresh thyme. Let cool for about 10 minutes before serving.
Enjoy!