Spicy Beef And Pork Empanadas
These Spicy Beef and Pork Empanadas are the perfect handheld snack. They're packed with flavorful meat and veggies, and they're sure to be a hit with everyone at your next party.
May 04, 2023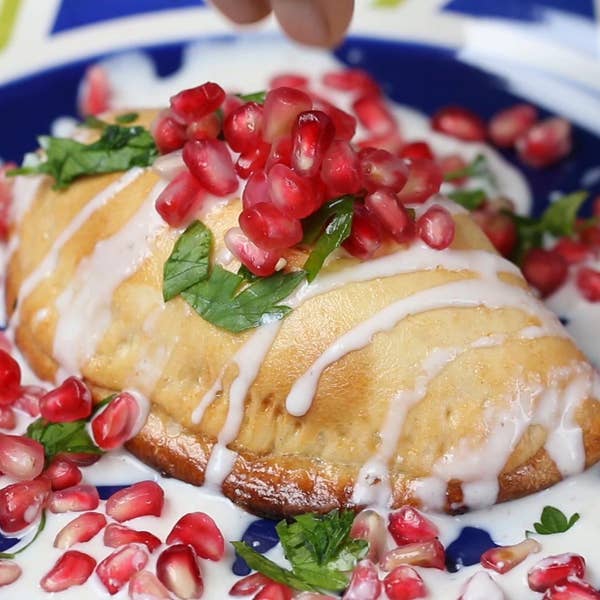 Ingredients
for 6 servings
Cashew Cream
¾ cup cashews

(75 g)

6 oz goat cheese

(170 g)

½ cup cream

(120 mL)

1 cup milk

(240 mL)

4 tablespoons sugar
1 teaspoon salt
Filling
½ onion, diced
4 cloves garlic, minced
½ lb ground pork

(225 g)

½ lb ground beef

(225 g)

salt, to taste
pepper, to taste
2 tomatoes, diced
1 pear, diced
1 apple, diced
1 peach, diced
½ plantain, diced
½ cup raisin

(75 g)

½ cup almond

(70 g)

, sliced
¼ cup pine nuts

(35 g)

3 poblano chiles
Empanada dough
1 cup flour

(125 g)

1 tablespoon salt
½ cup butter

(115 g)

½ cup milk

(120 mL)

1 egg, beaten
egg wash
Preparation
Blend all the cashew cream ingredients in a blender until smooth. Set aside.
Fry onion and garlic for a few minutes, then add the ground pork and the ground beef, seasoned with salt and pepper. Continue stirring and browning the meat until cooked through, about 3-5 minutes.
Add all the fruit, raisins, almonds, and pine nuts, stir to combine, then remove from heat and chill.
Poach the poblano pepper, remove the skin. Open and remove the seeds and veins, then cut into strips. Set aside.
Preheat oven to 500˚F (250˚C) (or as high as your oven will go).
For the empanada dough, mix flour, butter, salt and milk, kneading into a dough. Add egg, then knead until firm.
Pinch off a bit of dough and flatten into a circle, adding two strips of chile poblano and the meat filling.
Put a bit of water on your finger and wet the edge of half the empanada. Close the empanada and use a fork to seal the edges.
Brush with an egg wash before putting on a baking sheet.
Bake 20-25 minutes or until golden brown.
Top the empanadas with cashew cream and garnish with pomegranate and cilantro.
Enjoy!
Busy? Plan your meals for the week using our exclusive meal planner tool in the Tasty app. Download now and get organized.