Turtle Waffles
June 10, 2019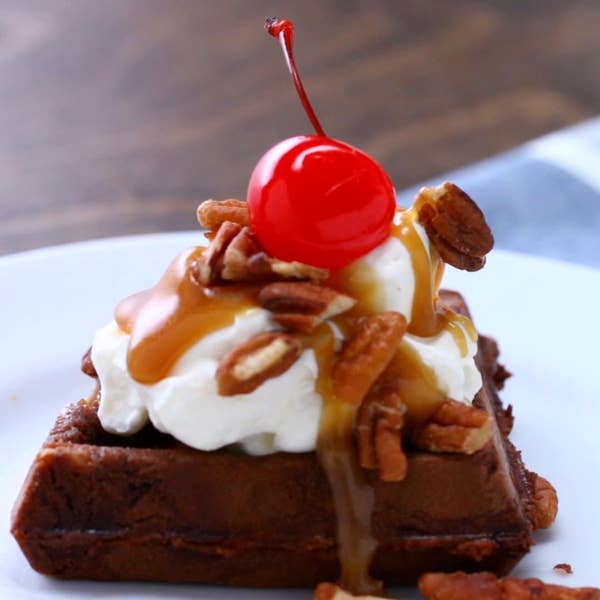 Ingredients
for 2 servings
Servings: 8
1 ¼ cups waffle mix

(300 mL)

¼ cup unsweetened cocoa powder

(30 g)

3 tablespoons vegetable oil
1 egg
½ cup semi-sweet chocolate chips

(85 g)

1 ¼ cups water

(300 mL)

1 cup chopped pecans

(125 g)

1 whipped cream, for topping
1 maraschino cherry, for topping
Caramel Sauce
¾ cup brown sugar

(165 g)

3 tablespoons butter
½ cup heavy cream

(120 mL)

1 salt, Large pinch
Preparation
In a large mixing bowl, combine waffle mix, egg, oil, cocoa powder, and chocolate chips. Stir until mixture is smooth.
In a small saucepan over medium-low heat, combine ingredients for caramel sauce and bring to a low boil, whisking constantly once mixture starts to boil. Continue to whisk until mixture darkens slightly and begins to thicken. Remove from heat and let cool for at least 30 minutes.
Preheat a greased waffle iron. Pour ½ cup of waffle mix into the iron, then top with ¼ cup of pecans and a few tablespoons of caramel. Cover that with another half cup of waffle mix. Close waffle iron and cook according to manufacturer directions.
When waffle is cooked to desired crispness, remove to a plate. Top with more pecans, a drizzle of caramel, a dollop of whipped cream, and a cherry on top.
Enjoy!