11 Herbs And Spices Fried Chicken
Flex your pantry muscles with this 11 herbs and spices fried chicken. The juicy and flavorful chicken is coated in a perfectly seasoned breading for a crispy and satisfying bite.
May 04, 2023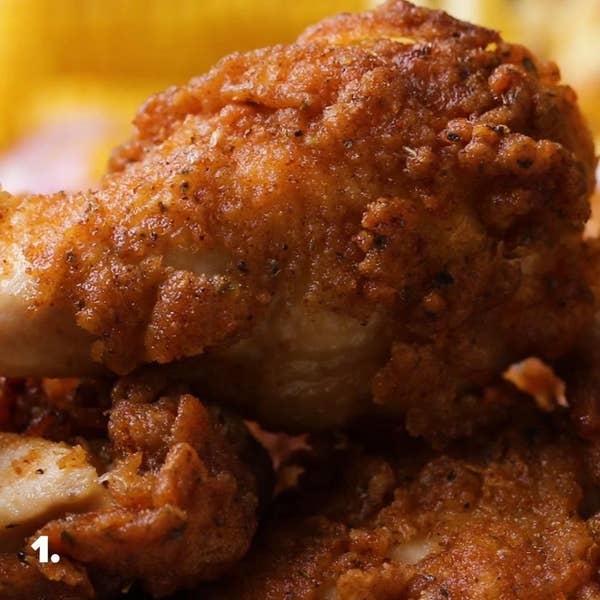 Ingredients
for 8 servings
1 ¾ cups buttermilk

(400 mL)

2 eggs
8 chicken drumsticks
8 ½ cups vegetable oil

(2 L)
Herbs and Spices Mix
2 cups flour

(250 g)

2 teaspoons salt
½ tablespoon dried thyme
½ tablespoon dried basil
1 teaspoon dried oregano
1 teaspoon celery salt
½ tablespoon black pepper
1 tablespoon mustard powder
2 tablespoons paprika
2 tablespoons garlic salt
1 tablespoon powdered ginger
1 tablespoon white pepper
Preparation
Beat the eggs into the buttermilk.
Add the chicken pieces to the buttermilk mixture and chill for an hour.
In a large mixing bowl, mix the flour with all the herbs and spices.
Coat the soaked chicken pieces in the herbed flour mixture, shaking off any excess.
Heat oil in a large sauce pan to 325˚F (170°C), then turn to low heat.
Fry the chicken in batches for 15 minutes until the chicken is cooked and the skins turn golden brown.
Transfer to a paper towel-lined plate.
Enjoy!
Cook smarter, not harder. Use our AI chef Botatouille on the Tasty app. Download now.