Bacon and Camembert Pull-Apart Garlic Bread
This delicious and indulgent garlic bread is filled with crispy bacon and creamy Camembert cheese, perfect for sharing with friends and family.
May 14, 2023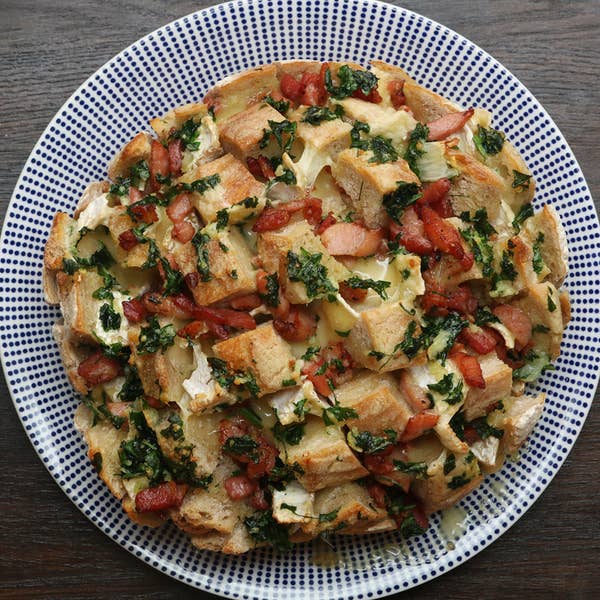 Ingredients
for 6 servings
1 round sourdough loaf
8 oz camembert cheese

(250 g)

⅓ cup butter

(75 g)

, melted
⅓ cup fresh parsley

(10 g)

, chopped
2 cloves garlic, crushed
½ cup bacon

(150 g)

, cooked, chopped
Preparation
Preheat the oven to 350°F (180°C).
Slice the camembert into thick matchsticks.
Make deep, thick slits into the bread without cutting all the way through, about 90% down is good.
Rotate the bread 90° and make more cuts, 90% through again, creating little sticks of bread that are all held together by the crust at the bottom.
Combine the butter, parsley and garlic.
Stuff camembert in between the bread sticks.
Drop the cooked bacon bits over the bread, pushing some of them down into the cracks.
Drizzle butter evenly over the bread.
Bake for 18-20 minutes until the camembert is melted and the top of the bread is crusty.
Enjoy!
Cook smarter, not harder. Use our AI chef Botatouille on the Tasty app. Download now.