86% would make again
Beef Broccoli-Stuffed Rice Triangles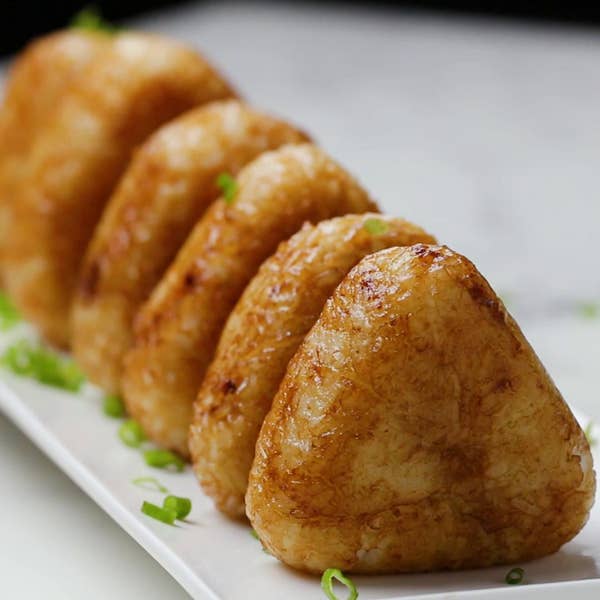 Inspired by justonecookbook.com
Ingredients
for 12 servings
Rice
3 cups japanese short grain rice

(600 g)

3 cups water

(720 mL)
Stir Fry Sauce
½ cup soy sauce

(120 mL)

¼ cup honey

(85 g)

½ teaspoon ginger, minced
1 clove garlic, minced
Filling
1 tablespoon vegetable oil
½ lb boneless round steak

(225 g)

, diced
½ teaspoon salt
½ teaspoon pepper
½ small yellow onion, finely chopped
1 cup broccoli

(150 g)

, finely chopped
1 tablespoon cornstarch
1 tablespoon water
½ tablespoon sesame seeds
2 tablespoons vegetable oil
½ cup soy sauce

(120 mL)

scallion, thinly sliced, for garnish
Nutrition Info
Estimated values based on one serving size.
Preparation
Make the rice: Wash the rice in a medium bowl of water, draining and refilling until the water is clear. Pour the washed rice into a large pot and add 3 cups (720 ml) of fresh water. Let soak for 30 minutes.
Place the rice on the stove over medium-high heat and bring to a boil. Cover, reduce the heat to low, and simmer for 12 minutes, or until all of the water is absorbed by the rice. Turn off the heat and let the rice rest with the lid on for 10 minutes, then fluff the rice and set aside until ready to use.
Make the stir fry sauce: In a liquid measuring cup or medium bowl, combine the soy sauce, honey, ginger, and garlic. Whisk to combine.
Make the filling: Heat the vegetable oil in a medium pan over medium heat. Add the beef, salt, and pepper and cook until the meat is browned and cooked all the way through, 3-4 minutes. Remove the beef from the pan.
Add the onion and broccoli to the same pan. Cook for 2-3 minutes, until slightly tender. Add the stir fry sauce. Combine the cornstarch and water in a small bowl and stir until cornstarch dissolves. Pour into the pan. Cook for 2-3 minutes more, or until the sauce is thick and the broccoli is tender.
Return the beef to the pan, add the sesame seeds, and stir until thoroughly combined. Remove the pan from the heat.
Line a 5-inch (13 cm) diameter bowl with plastic wrap. Scoop two tablespoons of rice into the bowl and use the back of a spoon (or your fingers) to flatten in an even layer against the inside of the bowl.
Add a ½ tablespoon of filling and top it off with a little more rice. Use the plastic wrap to mold the rice around the filling. Unwrap and use your hands to shape the rice into a triangle. Repeat with the remaining rice and filling.
In a medium pan, heat the vegetable oil over medium-high heat. Add 2-3 rice triangles to the pan and fry on each side for 1-2 minutes, or until the rice is crispy and starting to turn golden brown.
Brush soy sauce on all sides of the triangles and fry each side for another 1-2 minutes, or until dark golden brown. Repeat with the remaining triangles.
Sprinkle the rice triangles with scallions, then serve.
Enjoy!