Chili Cheese Chip Bag Meal
Take your meals on the go with these walking chip bags! Use this easy chili recipe with your favorite bag of corn chips for an entire meal that fits right in your hands. This is perfect for the kids or the big game!
February 06, 2020
Total Time
1 hr 5 min
1 hr 5 min
Prep Time
25 minutes
25 min
Cook Time
40 minutes
40 min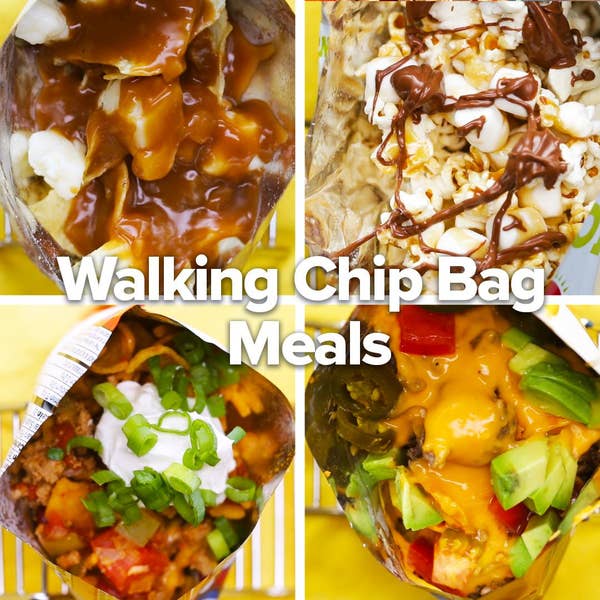 Total Time
1 hr 5 min
1 hr 5 min
Prep Time
25 minutes
25 min
Cook Time
40 minutes
40 min
Ingredients
for 4 servings
Turkey Chili
1 tablespoon olive oil
1 small yellow onion, diced
2 cloves garlic, minced
1 small green bell pepper, seeded and diced
1 teaspoon kosher salt, divided
½ teaspoon black pepper, divided
1 lb ground turkey

(455 g)

1 ½ tablespoons chili powder
2 tablespoons tomato paste
14.5 oz diced tomato

(395 g)

14.5 oz kidney bean

(395 g)

, drained and rinsed
1 cup chicken stock

(240 mL)
Chili Cheese Chip Bag
4 bags of corn chips, 1 ounce (30 g) each
¾ cup turkey chili

(185 g)

¼ cup shredded cheddar cheese

(25 g)

¼ cup sour cream

(60 g)

4 teaspoons fresh scallion, thinly sliced
Preparation
Make the chili: Heat the oil in a large saucepan over medium heat. When the oil is shimmering, add the onion, garlic, bell pepper, ½ teaspoon of salt, and ¼ teaspoon of black pepper. Cook until the vegetables soften, about 5 minutes.
Add the ground turkey, remaining ½ teaspoon of salt, and remaining ¼ teaspoon pepper to the pot. Cook, stirring occasionally, until the turkey is cooked through, about 5 minutes.
Add the chili powder and tomato paste to the pot and stir until the turkey and vegetables are coated. Cook for another 2 minutes to toast the spices slightly.
Add the diced tomatoes, kidney beans, and chicken stock and stir to combine. Bring to a boil, then reduce the heat to low and simmer for 30 minutes. Remove the pot from the heat. The chili will keep in the refrigerator in an airtight container for up to 4 days
To assemble, use scissors to cut open each bag of corn chip either along the top or side. To each bag of chips, add ¼ cup (60 g) turkey chili and 1 tablespoon cheddar cheese and stir with a fork to incorporate. Top with 1 tablespoon sour cream and 1 teaspoon scallions.
Serve immediately.
Enjoy!
Cook smarter, not harder. Use our AI chef Botatouille on the Tasty app. Download now.