Fajita Chicken Puff Pastry Twists
Elevate your chicken game with these delicious twists! Made with juicy fajita-style chicken, bell peppers, and crispy puff pastry, these twists are perfect for a fun and flavorful meal.
May 04, 2023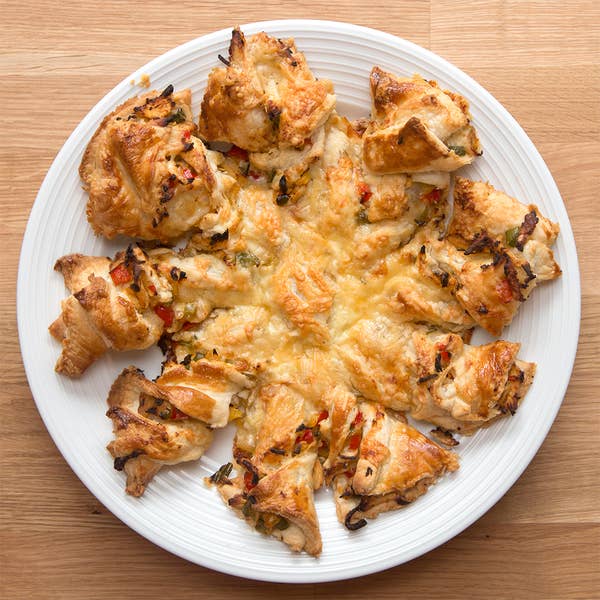 Ingredients
for 2 servings
18 oz puff pastry block

(500 g)

1 sprinkle flour
⅓ cup red bell pepper

(42 g)

⅓ cup green bell pepper

(42 g)

⅓ cup yellow bell pepper

(42 g)

½ cup onion

(75 g)

, about 1/2 an onion, diced
5.3 oz cooked chicken

(150 g)

, shredded
1 tablespoon fajita spice mix
1 ½ cups cheddar cheese

(150 g)

, grated
1 egg, beaten
Preparation
Dust a clean work surface with a sprinkling of flour, and roll half of the puff pastry into a large circle.
Place the largest plate you have (a pizza tray also works) on top of the pastry and tear around the edges to create a clean circle. Repeat with the other half of the pastry.
Preheat the oven to 200°C (400°F) (Gas Mark 6).
Fry the onions and mixed peppers until the onions are translucent.
Add the pre-cooked shredded chicken (to make shredded chicken, simply season and bake some chicken breasts, put it into a bowl and tear it up with 2 forks). Stir in the fajita spice mix and allow to cool while you do the next step.
Transfer one of the sheets to a baking tray, and spread the chicken fajita mix in an even layer, leaving about 1 cm (½ inch) free from the edge. Sprinkle a layer of cheese.
Cover with the second layer of puff pastry. Place an egg cup (or a shot glass) in the center of the pastry and make 8-10 even cuts all the way around the pastry.
Brush the beaten egg over the puff pastry.
Twist each segment twice to make it resemble a sun-like shape.
Bake for 18-22 minutes in the center of the oven, until deep golden brown and no grey patches remain on the pastry.
Enjoy!
Hate losing that perfect recipe? Save and organize recipes easily on the Tasty app. Download now.