93% would make again
Waffle Breakfast Sandwich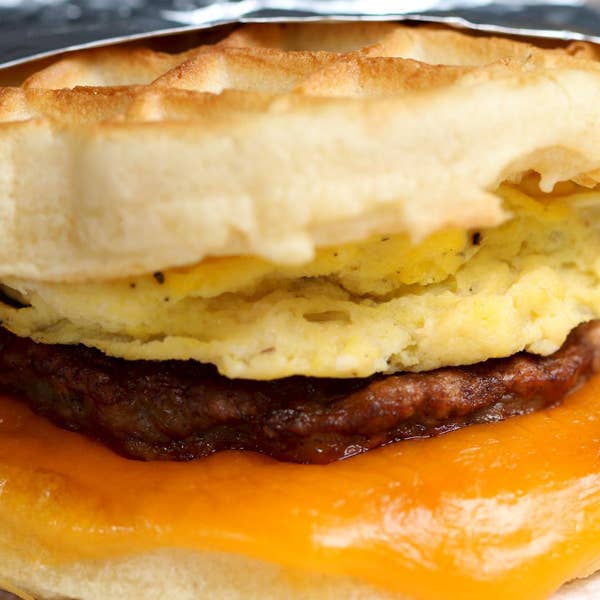 Inspired by tasty.co
Ingredients
for 1 serving
1 sausage patty
1 egg
salt, to taste
pepper, to taste
1 teaspoon milk
2 slices cheddar cheese
2 frozen waffles
Nutrition Info
Estimated values based on one serving size.
Preparation
Place a sausage patty and a mug or ramekin on a large microwaveable-friendly plate.
Crack the egg into the mug. Season with salt and pepper. Add a splash of milk, if desired. Whisk until well-mixed.
Microwave the entire plate for 1½-2 minutes, or until the egg is cooked through.
Invert the mug with the egg. You may have to run a knife around the mug first to ensure that the egg comes loose in one solid piece.
Toast two frozen waffles.
After the waffles are toasted, layer 1 waffle, cheese, the cooked sausage patty, eggs, and the remaining waffle.
Fold the edges of a sheet of aluminum foil down by half an inch (1 cm). Place the sandwich in the middle.
Bring the top and bottom of the edges of the paper together over the center of the sandwich. Repeat folding in half-inch (1 cm) turns, creasing each time, until the fold is level with the top of the sandwich.
Starting on the left side, use your fingers to press the edges into the center to form a pleated triangle. Press down and crease the triangle's edges, including at the base of the sandwich, before carefully folding it underneath. Repeat this process on the other side of the sandwich.
Enjoy!