Sheet Tray Puff Pastry Pockets
Turn up the heat and let the flavor flow with these flaky and savory Sheet Tray Puff Pastry Pockets! Filled with a delicious blend of meats, veggies, and spices, these pockets are perfect for any time of day.
May 04, 2023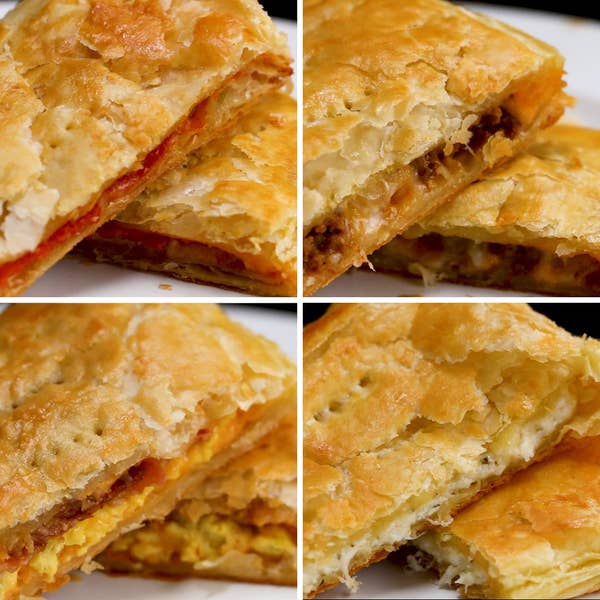 Ingredients
for 8 servings
Taco Mix
½ lb ground beef

(225 g)

¼ cup russet potato

(50 g)

, diced
¼ cup tomato

(50 g)

, diced
1 tablespoon taco seasoning
¼ cup water

(60 mL)

½ cup shredded mexican cheese blend

(50 g)
Four Cheese Mix
¼ cup grated parmesan cheese

(30 g)

¼ cup mozzarella cheese

(30 g)

¼ cup shredded provolone cheese

(25 g)

¼ cup ricotta cheese

(60 g)

¼ teaspoon italian seasoning
¼ teaspoon salt
Egg, Bacon & Cheese Mix
½ cup shredded cheddar cheese

(50 g)

2 eggs, scrambled
6 slices bacon, cooked
Pepperoni Pizza Mix
2 tablespoons pizza sauce
½ cup shredded mozzarella cheese

(50 g)

10 slices pepperoni
1 egg, beaten
Nutrition Info
Calories

1383

Fat

97g

Carbs

90g

Fiber

3g

Sugar

2g

Protein

38g
Estimated values based on one serving size.
Preparation
In a skillet over medium-high heat, add the ground beef, potatoes, tomatoes, and taco seasoning. Cook until the beef begins to brown. Then add the water, cover with a lid, and let simmer for 10 minutes. Set aside.
Preheat oven to 375˚F (190˚C).
In a bowl, mix together parmesan, mozzarella, provolone, ricotta, Italian seasoning, and salt. Set aside.
Flour a clean working surface and place two sheets of puff pastry next to one another, slightly overlapping on the edge. Press overlapping edges together firmly and roll out with a rolling pin to match the size of an 18x13-inch (45x30-cm) sheet tray. Repeat with two more sheets of puff pastry and set aside under a slightly damp towel until you're ready to start assembling.
To assemble, spray an 18x13-inch (45x30-cm) sheet tray with cooking spray and place one of the big pieces of puff pastry on the sheet. Press the dough into the corners.
Divide the sheet tray into eight sections. First, place half of the four-cheese mixture onto the dough and shape into a small rectangle that takes up about ⅛ of the sheet pan, leaving about half an inch from the edges of the corner of the pan. Repeat below with the rest of the four-cheese mixture.
Next to the four-cheese pockets, make a rectangle with cheddar, followed by scrambled eggs, bacon, and more cheddar on top. Repeat for another egg, bacon, and cheese-flavored pocket.
Then, sprinkle some Mexican blend cheese in the shape of a rectangle, followed by the cooked taco meat, and topped with more Mexican blend cheese. Repeat for another taco-flavored pocket.
Lastly, spread some pizza sauce in a rectangle shape and top with mozzarella cheese, pepperoni, and a little more cheese on top. Repeat for another pizza-flavored pocket.
Using a pastry brush, brush around each rectangle with egg wash. Cover the whole sheet pan with the other puff pastry sheet and press firmly down in between each rectangle to seal and form an isolated pocket.
Once those feel secure, cut the dough into 8 rectangular pockets, and remove any excess dough from the sides. Using a fork, poke each pocket 4 times for ventilation and brush each pocket with egg wash.
Bake for 28-30 minutes, or until the top is golden brown and the pockets have puffed up.
Enjoy!
Hate losing that perfect recipe? Save and organize recipes easily on the Tasty app. Download now.