Hot Chicken Chopped Salad
This hot chicken chopped salad is a spicy and satisfying lunch option that's easy to make. The tender chicken is coated in a spicy hot sauce and served over a bed of fresh greens and crunchy veggies, making it a healthy and delicious meal.
May 04, 2023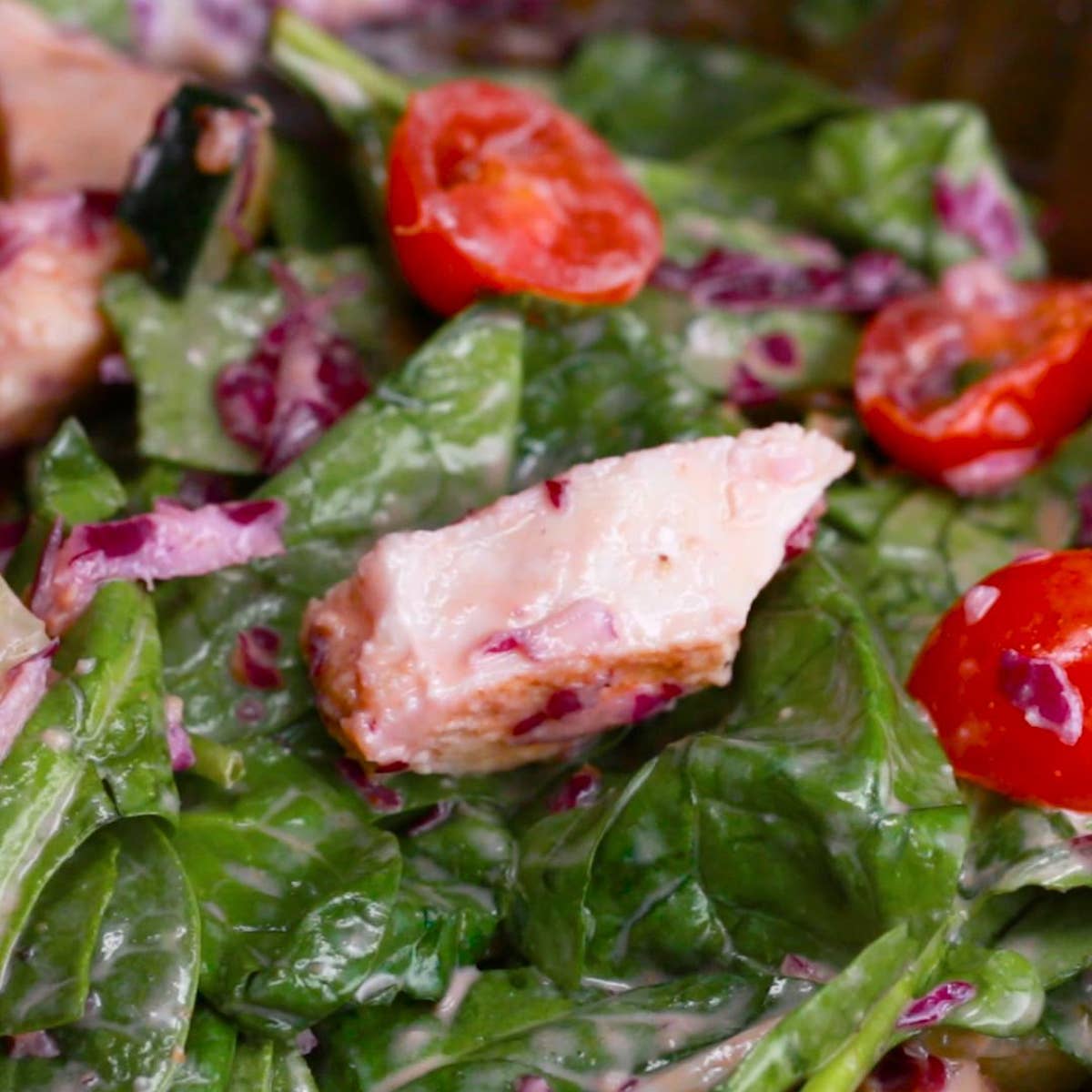 Ingredients
for 1 serving
Greek Yogurt Ranch Dressing
⅓ cup plain nonfat greek yogurt

(80 g)

1 tablespoon lemon juice
2 teaspoons green onion, chopped
¼ teaspoon salt
¼ teaspoon dijon mustard
½ clove garlic, minced
ground black pepper, pinch
Hot Chicken
2 tablespoons flour
½ teaspoon salt
¼ teaspoon ground black pepper
1 egg
2 tablespoons plain breadcrumbs
1 boneless, skinless chicken breast
1 tablespoon buffalo sauce
1 tablespoon honey
2 cups baby spinach

(80 g)

1 cup red cabbage

(100 g)

, shredded
¾ cup cherry tomato

(150 g)

, halved
½ cucumber, thinly sliced
Preparation
In a bowl, add the Greek yogurt, lemon juice, green onions, salt, mustard, garlic, and black pepper, and whisk to combine.
Add the flour, salt, and pepper to a wide, shallow bowl and stir to combine.
Add the egg into another bowl, and whisk until beaten.
Place bread crumbs in a third wide, shallow bowl.
Dip the chicken in the flour, the egg, and then bread crumbs.
Heat olive oil in a pan over medium heat. Once the oil begins to shimmer, add the chicken breast and cook until crispy and golden, about 3 minutes per side.
Remove the chicken from the pan and toss in a bowl of buffalo sauce and honey. Slice the chicken into strips.
Add the spinach, cabbage, tomatoes, and cucumber to a bowl and drizzle with the dressing. Top with the hot chicken. Toss to combine.
Enjoy!
All your favorite recipes, stored in one place. Download the Tasty app and never lose a recipe again.