Lasagne Roll-Ups
Lasagna roll-ups are a fun twist on the classic dish, filled with a rich, meaty filling and topped with gooey melted cheese.
May 05, 2023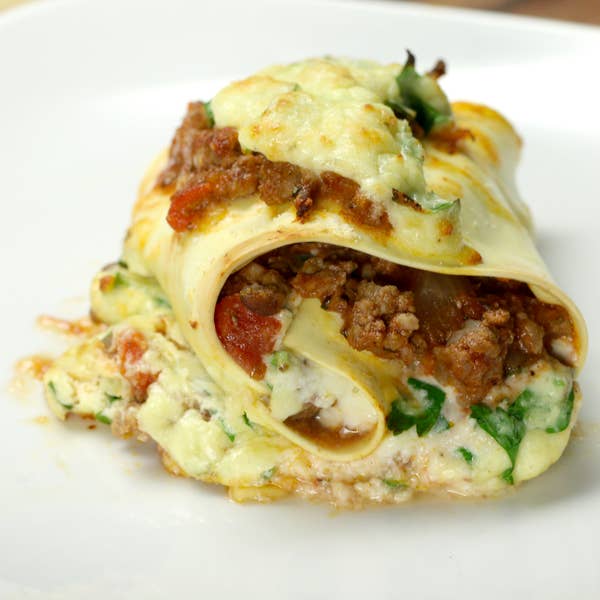 Ingredients
for 4 roll-ups
½ lb lean beef

(250 g)

, minced
½ onion, chopped
1 can canned chopped tomato
1 clove garlic
1 teaspoon dried oregano
1 teaspoon dried basil
salt, to taste
pepper, to taste
½ cup ricotta cheese

(125 g)

¾ cup grated mozzarella cheese

(75 g)

2 tablespoons parmesan cheese, plus more to top the lasagne with
1 sprinkle fresh parsley, chopped
1 egg
2 sheets lasagna sheet, fresh
Nutrition Info
Calories

305

Fat

15g

Carbs

15g

Fiber

2g

Sugar

6g

Protein

26g
Estimated values based on one serving size.
Preparation
Brown off the minced beef in a pan then add the onions.
Cook this through for a minute or so then add the tomatoes, garlic, oregano and basil, then season with a little bit of salt and a good bit of pepper.
Stir it all together and allow to simmer for a few minutes until the sauce has reduced slightly and everything is cooked well then set aside.
In a mixing bowl, add the ricotta, grated mozzarella, parmesan, parsley and egg. Season with salt and pepper. Mix this all up until it's well combined.
Preheat oven to 180°C (350°F) Gas mark 4.
Cut the lasagne sheets in half length ways and put them onto a baking tray.
Put a few tablespoons of the tomato and beef mixture all the way down the sheet, leaving a bit of space on each end to help when you roll it. Don't overfill this here, otherwise it'll get messy!
Place a layer of the cheese mixture on top of the beef mixture in the same way.
Roll the lasagne sheets up to form little cylinders full of lovely stuff, if the filling spills out, just shove it back in.
Top each roll-up with another tablespoon of both the beef and cheese then sprinkle a tablespoon of parmesan over all of it.
Bake in the centre of the pre-heated oven for 12-15 minutes until the cheese mixture on top has browned slightly.
Enjoy!