Masala Chicken Burger
This chicken burger has multidimensional flavor thanks to McCormick® spices, while the yogurt sauce, veggies, and naan bread make it a complete meal.
August 14, 2023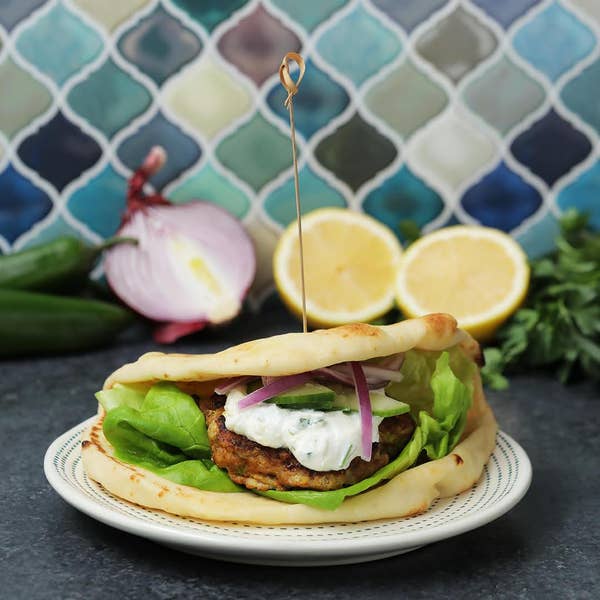 Ingredients
for 4 servings
Masala Chicken Burger
1 lb ground chicken

(425 g)

1 ½ teaspoons McCormick® Garlic Powder
1 ½ teaspoons McCormick® ground ginger
2 teaspoons Mccormick® ground cumin
2 teaspoons McCormick® Gourmet Organic Ground Coriander
1 teaspoon McCormick® Ground Turmeric
1 teaspoon McCormick® Paprika
1 teaspoon McCormick® chili powder
1 ¼ teaspoons kosher salt
3 tablespoons finely chopped red onion
1 small jalapeño, stemmed, seeded, and finely chopped (optional)
1 large egg
1 tablespoon olive oil
Yogurt Sauce
¾ cup plain unsweetened full-fat yogurt

(180 g)

1 teaspoon lemon zest
½ tablespoon finely chopped fresh parsley
1 tablespoon lemon juice
½ teaspoon McCormick® Garlic Powder
½ teaspoon kosher salt
¾ tablespoon olive oil
Assembly
4 pieces naan bread, warmed
4 butter lettuce leaves
1 cucumber, thinly sliced into half moons
½ small red onion, thinly sliced
Nutrition Info
Calories

762

Fat

30g

Carbs

79g

Fiber

25g

Sugar

10g

Protein

45g
Estimated values based on one serving size.
Preparation
Make the chicken burgers: Line a baking sheet with parchment paper.
Add the ground chicken to a large bowl and season with the McCormick® Garlic Powder, McCormick® Ground Ginger, McCormick® Ground Cumin, McCormick® Gourmet Organic Ground Coriander, McCormick® Ground Turmeric, McCormick® Paprika, McCormick® Chili Power, and salt. Add the red onion, jalapeño, and egg and mix well with your hands or a spatula until just combined, taking care to not overmix.
Divide the chicken mixture into 4 portions and shape into 1-inch-thick patties. Place on the prepared baking sheet. Using the back of a spoon or your thumb, gently press down on the center of each patty (this will help keep them flat during cooking). Chill the patties in the refrigerator for 30 minutes, until firmed slightly.
While the patties are chilling, make the yogurt sauce: In a medium bowl, whisk together the yogurt, lemon zest, parsley, lemon juice, McCormick® Garlic Powder, salt, and olive oil until smooth. Refrigerate until ready to use.
Cook the burgers: Heat the olive oil in a large skillet over medium heat. Add the chicken patties and cook for about 5 minutes per side, or until the internal temperature reaches at least 165°F (75°C) and the patties are golden brown. Remove the patties from the pan and let rest for 5 minutes before assembling the burgers.
To assemble, place a piece of butter lettuce and a burger patty on one side of a piece of warmed naan, then dollop 3 tablespoons of yogurt sauce on top. Top with cucumber and red onion. Fold the other side of the naan over the fillings and secure with a toothpick or skewer. Repeat with the remaining ingredients to make 4 sandwiches total.
Enjoy!
All your favorite recipes, stored in one place. Download the Tasty app and never lose a recipe again.