Meal Prep Meatballs And Sauce
Meal prep just got a whole lot tastier with these juicy, flavorful meatballs and zesty tomato sauce! Packed with protein and bursting with flavor, they're the perfect addition to any meal prep routine. Whip up a batch and enjoy the convenience of having delicious, home-cooked meals ready to go all week long!
May 05, 2023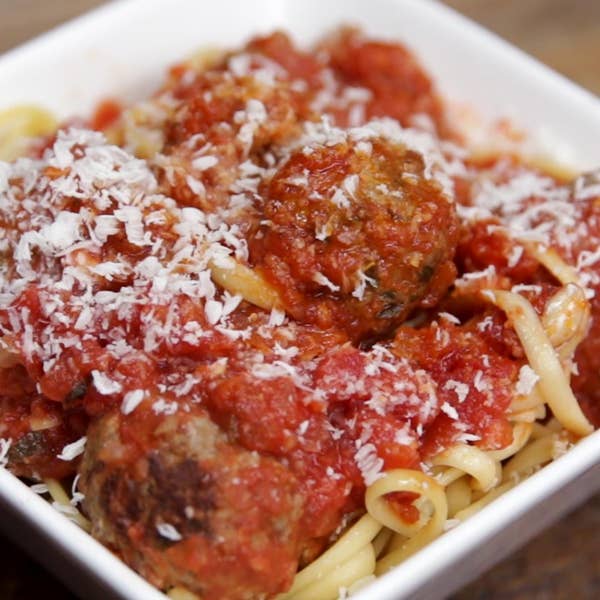 Ingredients
for 2 servings
2 lb ground beef

(910 g)

, 85/15
½ cup whole milk ricotta cheese

(125 g)

2 large eggs, divided
¼ cup bread crumbs

(30 g)

, unseasoned
¼ cup fresh parsley

(10 g)

, packed, roughly chopped
1 tablespoon McCormick® Oregano Leaves, divided, plus 1 teaspoon
1 teaspoon red pepper flakes, divided
4 teaspoons kosher salt, divided, plus more to taste
2 tablespoons extra virgin olive oil, divided
1 small yellow onion, 1/4 in (6 ml) diced
2 cans crushed tomato
1 tablespoon red wine vinegar
½ lb linguine

(225 g)

freshly grated parmesan cheese, to taste
12 hawaiian rolls, divided
1 tablespoon French's® Yellow Mustard
2 roasted peppers, 2 in (5 cm)
1 head green leaf lettuce, torn, divided
6 tablespoons red onion, pickled, divided
1 tube pizza dough
½ cup shredded low moisture mozzarella cheese

(50 g)

caesar dressing, to taste
1 cup chicken stock

(240 mL)

2 tablespoons unsalted butter, melted
3 cloves garlic, minced
fresh basil, for garnish
Preparation
In a large bowl, combine the ground beef, ricotta, 1 egg, the bread crumbs, parsley, 1½ tablespoons dried oregano, ½ teaspoon red pepper flakes, and 2 teaspoons salt. Mix well with your hands.
Using a 1-inch (2 ½ cm) scoop, portion the mixture into 46 meatballs. Roll with your hands into smooth balls.
Heat 1 tablespoon of olive oil in a large pot over medium-high heat. 4. Working in batches, sear the meatballs on all sides, until well browned, about 5 minutes. Remove the meatballs from the pot and set aside.
To the same pot, add the onion and cook until tender, about 5 minutes. Add the tomatoes, 1½ teaspoons oregano, 2 teaspoons salt, ½ teaspoon red pepper flakes, and the vinegar and bring to a boil.
Return the meatballs to the pot with the sauce, cover, and let simmer for 45 minutes, or until the meatballs are cooked through.
Day 1 - Linguine and Meatballs. Cook the linguine according to the package instructions. Meanwhile, reheat 1½ cups (500 G) of sauce and 10 meatballs.
To serve, divide the linguine between 2 bowls and top each serving with 5 meatballs and ¾ cup sauce. Garnish with freshly grated Parmesan cheese.
Enjoy!
Day 2 - Meatball Sliders. Cut 6 meatballs in half.
Separate the tops and bottom buns of 6 Hawaiian rolls. Spread the yellow mustard over the bottom buns. Top with the meatballs, roasted red peppers, ½ head of torn lettuce, and 3 tablespoons of pickled red onions. Top with the top buns.
Enjoy!
Day 3 - Pizza Pockets. Preheat the oven to 400˚F (200˚C). Line a baking sheet with parchment paper. Roll the pizza dough out to an 8 x 12-inch (20 x 30 cm) rectangle and cut into 4 equal pieces. Transfer to the prepared baking sheet.
Spoon 3 meatballs and sauce onto the top center of each piece of dough.
Sprinkle 2 tablespoons shredded mozzarella across meatballs.
Fold the bottom half of the dough over the meatballs and crimp the edges to seal. Beat the remaining egg, then brush over the dough.
Bake for 15-20 minutes, or until golden brown.
Enjoy!
Day 4 - Meatball Salad. Preheat the oven to 425˚F (220˚C). Tear 2 Hawaiian rolls into small pieces and place in a small bowl. Season with salt and pepper, drizzle with 1 tablespoon olive oil, and spread in a single layer on a baking sheet. Bake for 15 minutes, until golden and crispy.
In a large bowl, combine the remaining ½ head of green leaf lettuce, 8 meatballs, 1 cup croutons, and 3 tablespoons pickled red onion and drizzle with Caesar dressing. Toss to combine.
Enjoy!