92% would make again
Salted Caramel Coconut Cookies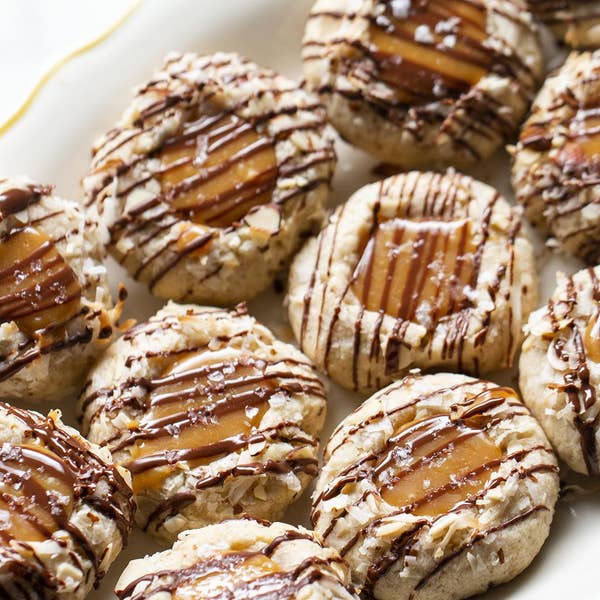 Inspired by foodnetwork.com
Ingredients
for 18 cookies
6 oz sliced almond

(55 g)

6 oz sweetened coconut flakes

(170 g)

, divided
1 ½ cups all purpose flour

(190 g)

½ teaspoon kosher salt
8 tablespoons unsalted butter, room temperature
½ cup sugar

(100 g)

½ teaspoon vanilla extract
1 large egg
4 oz caramel candy

(115 g)

3 tablespoons heavy cream
flaky sea salt, for sprinkling
½ cup chocolate ganache

(120 mL)

, for drizzling
Nutrition Info
Estimated values based on one serving size.
Preparation
Preheat the oven to 300˚F (150˚C). Line a baking sheet with parchment paper.
Add the sliced almonds and 3 ounces of the coconut flakes to the prepared baking sheet and toast for 15 minutes, or until golden and fragrant.
Increase the oven temperature to 350˚F (180˚C). Line 2 baking sheets with parchment paper.
Add the toasted coconut and half of the toasted almonds to a food processor and process until broken down into fine crumbs.
Add the flour and salt, and process until combined.
In a medium bowl, combine the butter, sugar, and vanilla, and beat with an electric hand mixer until fully combined and the sugar is dissolved.
Add the egg and beat to incorporate.
Fold in the flour mixture with a rubber spatula until no dry spots remain.
Divide the dough into 18 equal balls and arrange 9 on each baking sheet.
Using the bottom of a wooden spoon, poke a hole in the center of each dough ball.
Chill the dough balls for 30 minutes.
In a small bowl, combine the reserved toasted almonds with the remaining 3 ounces of coconut flakes. Mix with a fork to combine.
Roll the chilled dough balls in the almond coconut mixture to coat the outside.
Bake the cookies for 12 minutes, or until set. Let cool completely.
In a small pot over low heat, combine the caramel candies and heavy cream. Cook, stirring frequently, until melted. Remove from the heat.
Fill the centers of each cookie with the caramel mixture.
Drizzle melted chocolate over the cookies, then sprinkle with flaky sea salt.
Enjoy!