Tuna Avocado Tartine
Dive into this scrumptious Tuna Avocado Tartine that's perfect for a light lunch or snack. With its creamy avocado spread and zesty tuna mixture, you'll be craving this delightful open-faced sandwich every day!
May 04, 2023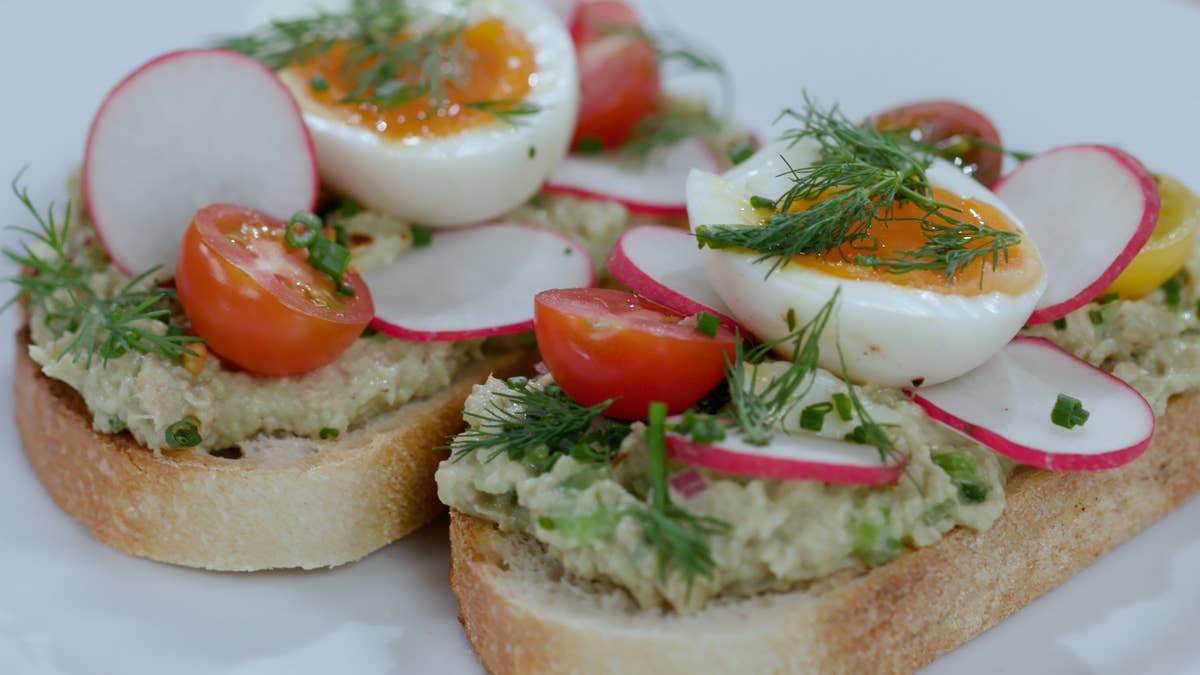 Ingredients
for 2 servings
3 pouches Bumble Bee® Wild Caught Albacore Tuna
⅓ cup plain full-fat greek yogurt

(80 g)

2 ripe avocados, pitted, and peeled, and diced
3 tablespoons lemon juice
¼ cup red onion

(40 g)

, divided, plus 2 tablespoons
¼ cup small cucumber

(170 g)

, diced
⅓ cup celery

(175 g)

1 lemon, zested
1 clove garlic, grated
1 teaspoon kosher salt
½ teaspoon freshly ground black pepper, plus more for garnish
½ teaspoon red pepper flakes
¾ cup cherry tomato

(150 g)

, halved, divided
4 large eggs
4 sourdough breads, cut ½-inch thick on the bias, toasted
⅓ cup radish

(170 g)

, sliced
2 tablespoons fresh chives, minced
2 tablespoons fresh dill, chopped
This recipe isn't available to shop.
Unfortunately, not all our recipes can be shopped through Tasty.
Preparation
In a medium bowl, mash together the Greek yogurt, avocados, and lemon juice. Add ¼ cup red onion, the cucumber, celery, lemon zest, garlic, salt, black pepper, and red pepper flakes and mix until evenly combined.
Fold in ½ cup (100 G) of the cherry tomatoes and the Bumble Bee® Albacore Tuna.
Fill a small pot halfway with water. Bring to a rolling boil over high heat. Add the eggs and cook for 6½–7 minutes. Meanwhile, prepare an ice bath in a medium bowl. Remove the eggs from the pot and immediately transfer to the ice bath to cool for 3–4 minutes. Once cool enough to handle, peel and halve the eggs.
To assemble, spread the tuna-avocado mixture over the toasted sourdough bread. Garnishing each slice with 2 halves of a jammy egg, the remaining 2 tablespoons red onion, remaining ¼ cup (50 G) tomatoes, the radishes, chives, and dill. Finish with a sprinkle of black pepper.
Serve Immediately.
Enjoy!