3-Way Party Fajitas Kebab
Get ready to party with these 3-Way Party Fajitas Kebabs! Skewer up some sizzling steak, zesty chicken, and scrumptious shrimp for a mouthwatering fiesta on a stick.
May 05, 2023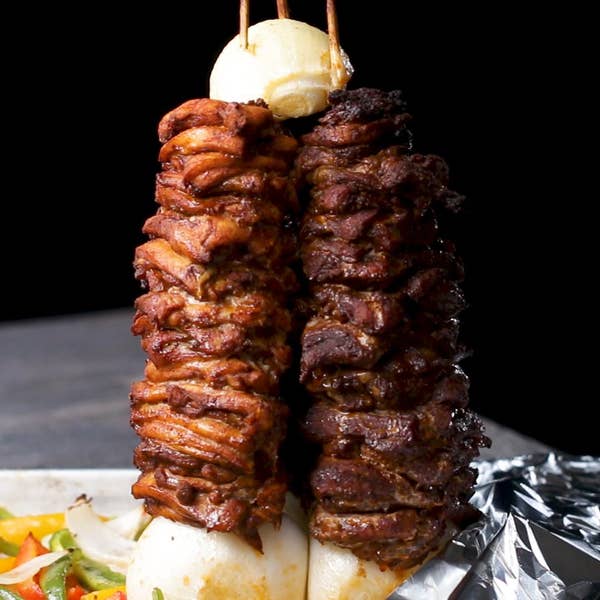 Ingredients
for 15 servings
2 lb boneless, skinless chicken thighs

(905 g)

2 lb skirt steak

(905 g)

2 lb boneless pork shoulder

(905 g)

, thinly sliced
2 ½ tablespoons salt, divided
1 ½ tablespoons black pepper, divided
2 tablespoons paprika
2 tablespoons chili powder
2 tablespoons cumin
6 cloves garlic, minced
½ cup lime juice

(120 mL)

, plus more for serving
2 large white onions, halved
1 large white onion, sliced
1 green bell pepper, sliced
1 red bell pepper, sliced
1 yellow bell pepper, sliced
2 tablespoons olive oil
10 corn tortillas, medium
1 cup guacamole

(230 g)

1 cup sour cream

(230 g)

1 cup pico de gallo

(240 g)
Nutrition Info
Calories

467

Fat

24g

Carbs

18g

Fiber

3g

Sugar

5g

Protein

45g
Estimated values based on one serving size.
Preparation
Slice the skirt steak into roughly 3-inch (7-cm) pieces. Transfer the pieces to a medium bowl.
Thinly slice the pork shoulder, then transfer the pieces to a separate medium bowl.
Pound the chicken thighs flat, then slice them in quarters. Transfer the pieces to a third medium bowl.
In a small bowl, combine 2 tablespoons salt, 1 tablespoon pepper, paprika, chili powder, cumin, garlic, and lime juice. Stir until there are no lumps.
Evenly divide the marinade among the 3 bowls of chicken, steak, and pork.
Toss the meats until they are evenly coated, then refrigerate for at least 30 minutes.
Preheat the oven to 300°F (150°C). Line a baking sheet with parchment paper.
Place 3 onion halves in the middle of the baking sheet, then insert a skewer in each onion, evenly spaced, near the inner edges.
Thread a piece of chicken onto one skewer, then a piece of steak onto the second, followed by a piece of pork onto the third. Repeat with the rest of the meat.
Secure another onion half onto the tops of the skewers to hold the towers together.
Bake for about 1½ hours, until the meat is slightly brown on the edges.
Increase the oven temperature to 450°F (230°C).
On one side of the baking sheet, toss the bell peppers and sliced onion with the remaining ½ tablespoon of salt, remaining ½ tablespoon of pepper, and the oil.
On the other side of the baking sheet, spread out the tortillas. Cover the tortilla side with foil.
Bake for 15 minutes, until the edges of the meat and the vegetables are slightly charred.
Slice your meat of choice into a tortilla, add vegetables, and top with guacamole, sour cream, pico de gallo, and a squeeze of lime.
Enjoy!