Cheesy Puffed Prosciutto Bites
October 26, 2021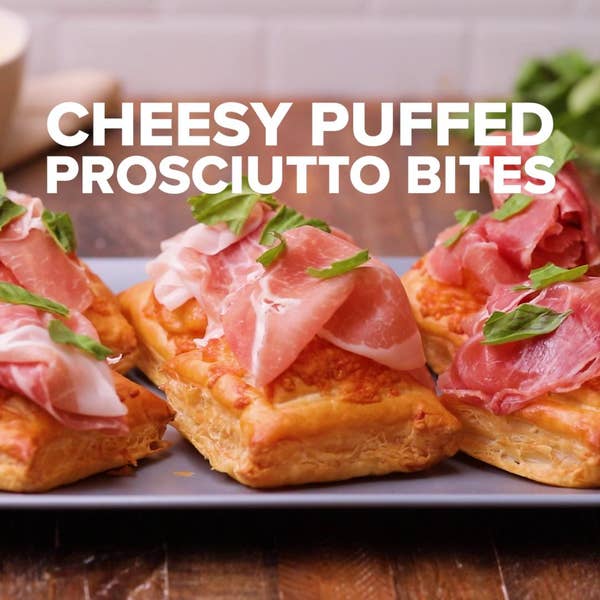 Ingredients
for 9 puffs
1 sheet frozen puff pastry, thawed
1 large egg yolk, beaten with a splash of water
9 tablespoons Private Selection® Italian Shredded Cheese
9 slices Private Selection™ Old World Prosciutto
7 fresh basils, torn
This recipe isn't available to shop.
Unfortunately, not all our recipes can be shopped through Tasty.
Preparation
Preheat the oven to 400°F (200°C). Line a baking sheet with parchment paper.
Roll out the puff pastry sheet if needed to a 9-inch square, then cut into 9 3-inch squares and transfer to the prepared baking sheet. Use a paring knife to lightly score a ½-inch border around the edges of each square, making sure not to cut all the way through. Use a pastry brush to brush the egg yolk and water mixture over the borders of each square.
Place about 1 tablespoon of Private Selection® Italian Shredded Cheese in the center of each pastry square.
Bake the squares for 15–17 minutes, until the pastry is puffed and golden brown. Remove from the oven and let cool slightly.
Gently fold the Private Selection™ Old World Prosciutto slices into loose coils and place atop the cheese on each square. Garnish the prosciutto bites with torn basil just before serving.
Enjoy!